I really enjoy All-American Weekend (in case you couldn't tell from my Twitter feed).
This year was no exception. We welcomed back alumni, some who celebrated 50 years since their graduation; they graduated just before Apollo 11 landed on the moon! We also welcomed back our Eagle families, and the new Eagle families who just joined us this year. The whole weekend is unique, and fun, and sometimes it can get emotional.
This year, I teared up. Let me tell you why:
Inclusion, Access, and a Head Start
To start, we have to go back about fifty years to my hometown in West Virginia. Hinton was a small town, and back then there weren't many opportunities for early childhood education. The first time most kids stepped into a classroom was in first grade. But I was lucky. The summer before my first grade, a new program came to Hinton. It set up shop in the room that would eventually become my fifth-grade classroom. 
We hatched chickens in an incubator, which started my lifelong love of science (eat your heart out, Hall of Science). I got to play games with my friend Kristi, who was in my wedding and is still my best friend today. Every morning, my teacher, Mrs. Rita Pack, would see me come bounding in and ask, "what are we going to learn today?" It shouldn't surprise anyone who's been in a meeting with me that I was ready to get to work!
That summer, I became a Head Start kid.
How does this connect to AU? Well, as it turns out, in the early 1960s when President Johnson was developing the Great Society (a series of new programs to fight poverty and give new opportunities to kids and families) he brought on board a psychology professor and expert on children's education who was working at Stanford University. Dr. Edmund Gordon had grown up in a segregated community in North Carolina and worked his way up through the ranks of research in psychology, early childhood education, and social policy. A pioneer of inclusion and access in academia, he had earned his master's degree from SPA in 1950.
Dr. Gordon has authored 18 books. He's written more than 200 professional articles, and over the weekend, he mentioned he's co-authoring another one now - at the age of 98! But most importantly to me, and millions of people across this country, he was an architect of the Head Start early childhood education program. That's right; Head Start was started by an AU alum.
So on Friday night at All-American Weekend, I - a graduate of the first Head Start class of Hinton, West Virginia - had the chance to thank the man who helped spark my love of learning, and helped chart my course here. It was an honor to meet him. I tried to keep it together, but when I had the chance to say "thank you," I cried.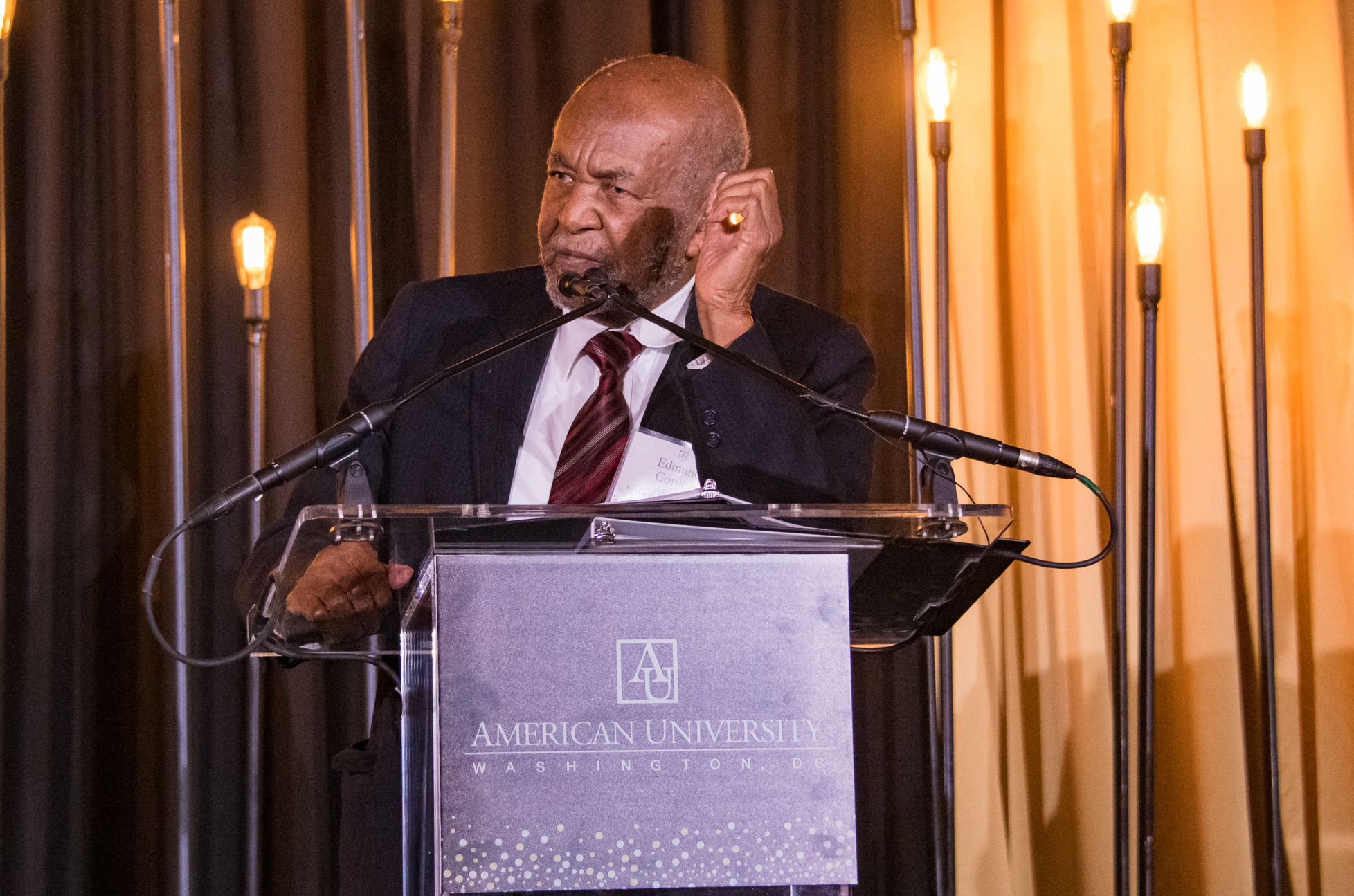 Dr. Gordon Addresses the Audience at the 2019 Alumni Awards
Dr. Gordon is what AU is about. Changemakers for a changing world. The importance of inclusive excellence. How our access to the field of higher education calls on us to expand access for others. That's as true today as it was more than fifty years ago. We may never get to meet the people who felt the impact of our change, but we should always keep in mind that every person from this community is capable of great things.
It also made me think about how we can support the budding changemakers who are here today. I think one of the easiest things we can do is highlight their work, and take time to support one another. One example I saw just last week was the team of AU graduate students who helped curate the new exhibit at the AU Museum in Katzen, Moves Like Walter. They had the chance to work with the pieces of the Corcoran gift, the largest art gift in American history, which brought more than 9,000 pieces right here to your campus. It's a gift that shows the impact AU is making on the DC arts scene, and I hope you can take some time to see it for yourself and share your thoughts and reflections on social media. It's a remarkable exhibit.
---
New Faculty
One of the ways we make progress on our journey toward Inclusive Excellence is by making progress in representation. That's why I was excited to see that our new, tenure-line faculty hires for the 2019-2020 academic year were 46 percent people of color. That's the highest it's been in the past three years, and a sign that we're making progress. I hope that you'll join me in welcoming these new scholars and providing a sense of belonging to these new members of the AU family.
---
Students
For the third year in a row, our SIS students welcomed the Model G20 to campus. It brought together students from across the country, and as far as the Netherlands and Liberia, all to hone their skills in diplomacy and solving complex problems. The G20 helps to better represent the complexity and breadth of the global economy. I'm thankful to all our students, faculty, and staff who made it possible.
---
Health Reform at WCL
Last week I also had the chance to join WCL's Next Steps in Health Reform conference. It was a great way to see how AU is convening and leading conversations on some of the most pressing challenges in our nation. And personally, it was fun to spend time with two colleagues who have become health secretaries of their own - Commissioner Jeanne Lambrew of Maine and Secretary Andrea Palm of Wisconsin. You can read more about the conference here.
---
Thank You
Finally, I want to extend my thanks to everyone who helped make All-American Weekend 2019 such a success. From the staff and faculty to all the volunteers and student performers who showed up, you reminded all of us what makes this community so special, and why we're proud to say Once an Eagle, Always an Eagle.
Best,