Bethany Bridgham Acting General Counsel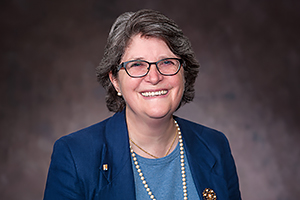 Bethany Bridgham has served as the Acting General Counsel of American University since July 2017. She has served in various capacities in American University's Office of General Counsel for over 20 years.
After earning her JD at the Washington College of Law in 1988, Bridgham worked in private practice for several years before enrolling at Georgetown University Law Center to pursue a Master of Laws in Taxation, with an emphasis on tax-exempt organizations. While enrolled at Georgetown, she worked in the Medical Center Counsel's Office at Georgetown Medical Center and upon graduation, accepted a position with the Washington National Tax Office at PricewaterhouseCoopers. Bridgham returned to AU in 1995, joining the Office of General Counsel with responsibility for matters related to tax, finance, transactions, and employee benefits.
Bridgham is a frequent lecturer at the local and national level on topics related to the law of higher education and tax-exempt organizations. In addition, she has served as the university's point person for the Army Corps of Engineers project for the past 18 years. In 2016, as part of the Student Payments Working Group, Bridgham was a recipient of the Staff Performance Award for Collaboration in recognition of the group's collaborative efforts and outstanding results to establish guidelines and policies to improve the student payment process. A lifelong athlete, she will be inducted into the Athletic Hall of Fame at her undergraduate alma mater, Smith College, in October 2017.