Sylvia M. Burwell President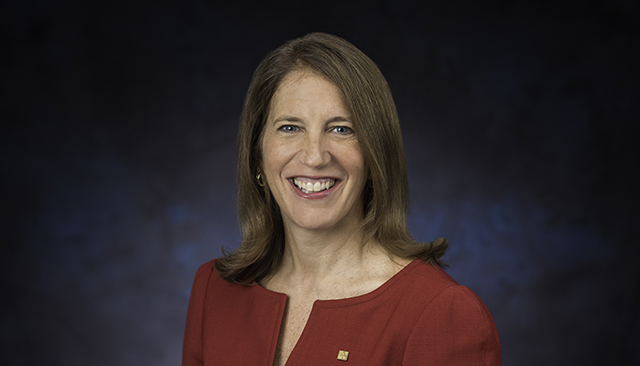 Sylvia Mathews Burwell is American University's 15th president and the first woman to serve as president.
President Burwell is a broad-ranging, effective leader who has served at the highest levels of government, philanthropy, and academia. Since her inauguration as AU's president in 2018, President Burwell created AU's comprehensive strategy, Changemakers for a Changing World, launched a $500 million Change Can't Wait campaign to fund new efforts in student thriving, and successfully led the university through a historic pandemic.
Under her leadership, AU became the first university to achieve carbon neutrality; launched an inclusive excellence plan as a roadmap toward a more equitable future; opened the Sine Institute for Policy and Politics, the Khan Cyber and Economic Security Institute, and the LEED-Gold Hall of Science; helped to create an ethos of inquiry with an updated policy on freedom of expression and expressive conduct; supported faculty to more than double externally-funded research dollars; celebrated the growth of faculty achievements ranging from multi-million dollar grants to New York Times bestselling books; and grew AU's endowment to approximately $950 million.
President Burwell also led the creation of the Change Can't Wait campaign to create transformative educational opportunities for students, advance research with impact, and build stronger communities locally, nationally, and globally. This campaign is on target to raise $500 million and make the largest investment in student thriving in the university's history.
President Burwell previously held two positions in the President's Cabinet – serving as Secretary of Health and Human Services (HHS) and Director of the Office of Management and Budget (OMB) for President Barack Obama. As HHS Secretary, she managed a trillion-dollar department with 12 operating divisions – including NIH, FDA, and the Medicaid and Medicare programs. As Director of OMB, she worked with Congress to negotiate a two-year budget deal following the 2013 government shutdown. 
President Burwell also held leadership positions at two of the largest foundations in the world – she served as Chief Operating Officer and president of the Global Development Program at the Bill and Melinda Gates Foundation and as president of the Walmart Foundation.
President Burwell earned a Bachelor of Arts degree in Political Science and Government from Harvard University and a BA in Philosophy, Politics and Economics from the University of Oxford as a Rhodes Scholar.
She is a member of the Harvard University Board of Overseers, the Aspen Strategy Group, and the Aspen Economic Strategy Group. She also serves on the boards of the American Council on Education, the Council on Foreign Relations, the Presidents' Alliance on Higher Education and Immigration, GuideWell, and Kimberly-Clark.
A second-generation Greek American, Burwell is a native of Hinton, West Virginia. She and her husband Stephen are the parents of two teenagers.