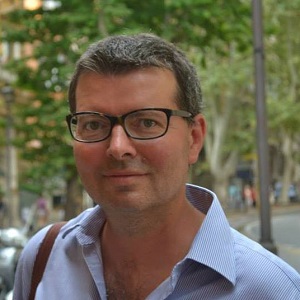 Ranieri Moore Cavaceppi
Senior Professorial Lecturer
World Languages and Cultures
Additional Positions at AU

Coordinator of the Italian Language Program

Professor Cavaceppi teaches various levels of Italian at American University, including beginner, intermediate, and advanced conversation and composition courses. As the primary instructor at AU, Professor Cavaceppi supervises the independent study projects of undergraduate students. He is also the faculty advisor to the AU Italian Club. A Fulbright Fellow and a graduate of the University of Pennsylvania, Professor Cavaceppi received an MA in Italian Literature from the University of North Carolina and a PhD from Brown University for his research on Italian medieval and Renaissance Knights Hospitaller. He spent his formative years in both Rome and Washington, DC. During the last twenty years, Professor Cavaceppi has also taught Italian at Brown and UNC; additionally, he was the Assistant Director of the Brown in Bologna Program, coordinating the activities of its study abroad students in Italy.

Degrees

PhD, Italian Studies, Brown University
MA, Italian Literature, University of North Carolina at Chapel Hill
BA, European History, University of Pennsylvania

Languages Spoken:

Fluent in English and Italian; reading knowledge of French and Latin
Loading ...

OFFICE

CAS-World Lang and Cultures
Jack Child Hall - 204
Wed. 2-6 pm, Fri. 4-6 pm.
FOR THE MEDIA

To request an interview for a
news story, call AU Communications
at 202-885-5950 or submit a request.
---
Partnerships & Affiliations
American Association for Italian Studies (AAIS)

2005 to present

American Association of Teachers of Italian (AATI)

2005 to present

Fulbright Association

1999 to present
Modern Language Association (MLA)

1996 to present

Renaissance Society of America

2012 to present

Medieval Academy of America

2012 to present
Teaching
Fall 2015

ITAL-118 Italian, Elementary I

ITAL-218 Italian, Intermediate I

ITAL-318 Italian Convers & Comp I
Spring 2016

GNED-120 General Education Area 2 Topic: Italian American Culture & Exp

ITAL-219 Italian, Intermediate II

ITAL-319 Italian Convers & Comp II
Scholarly, Creative & Professional Activities
Research Interests
Dr. Cavaceppi researches fifteenth- and sixteenth-century Hospitaller Knights, examining their writings and iconography.  He also studies twentieth-century Italian literature and modern cinema. 
Honors, Awards, and Fellowships
2015-16, National Italian American Foundation (NIAF) on Campus Fellow
2008, AU Department of World Languages and Cultures written commendation for excellent teaching evaluations
2000-01, Brown University Research Fellowship
1998-99, Fulbright Fellow
1997-98, Brown University Presidential Graduate Teaching Award Finalist
Work In Progress
Currently researching the Italian American experience. 
Selected Publications
The Bitterness of Teofilo Folengo: A Reconsideration of Orlandino. A thesis submitted to the faculty of the University of North Carolina at Chapel Hill in partial fulfillment of the requirements for the degree of Master of Arts in the Department of Romance Languages, under the direction of Dr. Ennio Rao, 1996.
Fra Sabba da Castiglione: The Self-Fashioning of a Renaissance Knight Hospitaller. A dissertation submitted in partial fulfillment of the requirements for the degree of Doctor of Philosophy in the Department of Italian Studies at Brown University, under the direction of Dr. Ronald L. Martinez, 2011.
Multimedia