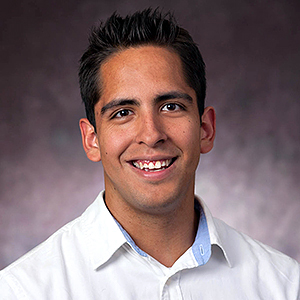 Jesus Sanchez

Career Services Systems Administrator Career Center
Degrees

B.A. Political Science: Policy, School of Public Affairs, American University

Favorite Spot on Campus

Bender Arena

Bio

Adrian Sanchez is the Systems Coordinator at the American University Career Center, the current Staff Council Chair, a part-time Research Assistant at the Kogod Cybersecurity Governance Center, and a proud AU alumnus from the School of Public Affairs.
Since his sophomore year, Adrian has been contributing his talents to the many systems of the Career Center. Starting as an IT Assistant, Adrian has worked his way up to join the Administration team, addressing the technology needs and providing solutions for the entire office.
In his role as Staff Council Chair, Adrian serves on the University Budget Committee, the Benefits Advisory Committee, and is the staff representative to the AU Board of Trustees.
Adrian has also worked for the Washington Semester Program and Housing & Dining Programs. Outside of the University, Adrian has taken advantage of Washington, D.C. by being an intern at The Hill and working with the National Confectioners Association.