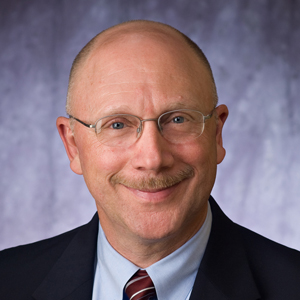 David Swartz

Vice President and Chief Information Officer IT Office Administration
Degrees

BS, MS, PhD, University of Maryland College Park

Bio

Dave Swartz is American University's vice president and chief information officer. Dr. Swartz has a long history of supporting university and health care computing and networking.
Before coming to American University in 2007, he was the CIO at George Washington University for eight years. He was also the director of information systems and network services at West Virginia University; and also, led academic computing at the University of Oklahoma. He has worked as a consultant on ERP systems and telemedicine networks for groups, such as: Columbia Health System, Saint Francis Health System, the states of North Dakota and South Dakota, the Indian Health Service, the Veterans Administration, and the U.S. Military.
He holds BS, MS, and PhD degrees from the University of Maryland, College Park with a focus in natural resource and environmental economics. He is active in the EDUCAUSE and Internet2 associations, where he has served as chair of the Higher Education Information Security Council, chair of the Operations Excellence Steering Committee, and a faculty member of the Leadership Institute. In 2012, he received the IT Leader of the Year award, the highest recognition offered by EDUCAUSE. He has published 33 peer reviewed articles, two chapters, and one book.
Partnerships & Affiliations
Scholarly, Creative & Professional Activities
Selected Publications
Books
Biomolecular Data: A Resource in Transition.  Rita R. Coldwell, David G. Swartz, and Michael T MacDonell.  Oxford University Press, New York, 1989. 367 pp.
Development of mapping programs to represent environmental data.  Swartz, D.G. and Rita R. Colwell. 1987. In Computer Handling and Dissemination of Data, P.S. Glaser, ed., Elsevier Science Publishers.
Articles
Swartz, David.G., and Ken Orgill.  ERP: Lessons Learned. EDUCAUSE Quarterly, Number 2, 2001.
Swartz, David G.  The Path to Successful ERP Implementation, College Planning & Management, vol. 4 pp. 26-37, Oct. 2001.
Swartz, David G.  Security of Internet-based Telemedicine Systems.  Telemedicine Today, January 1998.
Xu Huasushu, Li Jun, Swartz, D.G. and Colwell, R.R. Occurrence and distribution of vibrios in fishes and shellfishes in coastal waters of Hong Kong. Actna oceanolgica sinica, 1998, vol. 17, pp. 545-553.
Swartz, David G. PACs and Teleradiology, Telemedicine Today, March/April 1997.
Swartz, David G.  DICOM3: A Proposed Standard for Digital Medical Imaging.  January/February 1997.
Swartz, David G.  Everyday Telecardiology Emerges. Telemedicine Today. May/June 1996.
Swartz, David G. Video Standards and Telepathology. Telemedicine Today, November 1995.
Grimes, D.J., Swartz, D.G. and Colwell, R.R. Numerical Taxonomy of Gram Negative, oxidase positive bacteria.  International Journal of Systematic Bacteriology, 1993, vol. 43, pp. 88-98.
Ivar Strand, Nancy Bockstael and David Swartz. Marine Recreational Fishing in the Middle and South Atlantic: A Descriptive Study, August 1991, EE-0036A, University of Maryland Experiment Station Research Report. 
Rita Colwell, Michael MacDonell, and David Swartz. Identification of an Antarctic endolithic microorganism by 5S rRNA sequence analysis. Systematic and Applied Microbiology, 1989, vol. 11, pp. 182-186.
Michael MacDonell, David G. Swartz, and Rita R. Colwell. Ribosomal RNA phylogenies for the video-enteric group of eubacteria.  Molecular Microbiology Vol. 3, no. 6, pp. 172-175. 1986.
Colwell, R.R., Russek, E. and Swartz, D.G. Biotechnology data in the academic and research environment. CODATA Bulletin, 1984, pp. 44-48.
Swartz, David G. and Ivar E. Strand.  Avoidance Costs Associated with Imperfect Information: The Case of Kepone. Land Economics, Vol. 57, No. 2 (May 1981), pp. 139-150.
Research Interests
Enterprise Resource Planning (ERP) Systems
Telemedicine Technology
Professional Presentations
   
Keynote: Enforcing Information Security Policies in Today's Higher Education Community. JUCC Information Security Challenges Conference 2010.
   
Blackboard, Moodle, and Sakai. EDUCAUSE 2009.
   
Business Continuity: Maintaining Functionality in Times of Crisis. EDUCAUSE 2007.
   
Business Continuity: Choosing Continuity vs. Recovery. EDUCAUSE Business Continuity Workshop, August 2006, Denver.
   
Making the Case for Security: An Application of the NIST Security Assessment Framework, EDUCAUSE 2003.
   
Achieving and Sustaining HIPAA Compliance, EDUCAUSE 2002.
   
Higher Education ERP: Lessons Learned, CUMREC 2001.
   
Higher Education ERP: Lessons Learned, EDUCAUSE 2000.
   
Applications of CHESMAP: An environmental data mapping program. 1990, pp 373-381, Proceedings of the Thirteenth Annual SAS Users Group Internetational Conference, SAS Inst., Cary NC.
Honors, Awards, and Fellowships
IT Leader of the Year, EDUCAUSE, 2012
Best Practices in Storage, Computerworld, 2006
Bold 100, CIO Magazine, 2005
Best Practices in Enterprise Management, Computerworld, 2004
Premier 100 IT Leaders, Computerworld, 2003
Best Practice Award for Cybersecurity, National Technology Forum, 2002
Award for Excellence in Administrative Systems, EDUCAUSE
Award for Institutional Excellence in Communications Technology, ACUTA