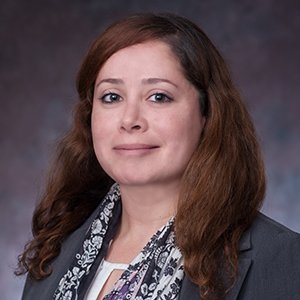 Juliana Fernandes

Associate Director, Immigration & Compliance International Student and Scholar Services
Degrees

B.A. Psychology, Mackenzie University, Brazil; M.A. International Development, American University.

Favorite Spot on Campus

SIS building

Bio

Juliana joined the International Student & Scholar Services in November 2015. Prior to joining ISSS, Juliana coordinated cross-cultural programs for AU graduates and pre and post departure orientations for Fulbright students at the Intercultural Management Institute. She also assisted multiple faculty in teaching graduate level courses in international affairs for senior military and government officials at the American University and Inter-American Defense College partnership program. Juliana graduated from SIS in 2012 with a Master's in International Development focused on project and program management and international education. Juliana's international education and relations experience was enhanced through her work at the Embassy of Brazil in Washington, at United Nations Educational, Scientific and Cultural Organization (UNESCO), at the Organization of American States (OAS), and at George Washington University (GW). In Brazil, Juliana was a scholarship recipient and dedicated her studies and work in the development and implementation of community programs to underserved populations. Juliana has special interest in adult education, non-formal education, lifelong learning, and the role of education and mass media in economic growth, social mobility, and peacebuilding. On her free time Juliana enjoys listening to jazz and blues and being outdoors watching birds.

Languages Spoken: Native Portuguese, Fluent English, Advanced Spanish.