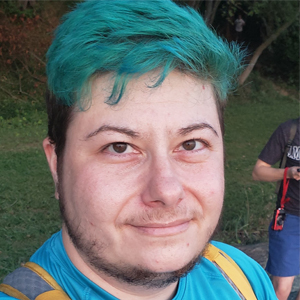 Kayden Kassof

Instructional Technologist & Space Designer University Library
Degrees

MFA Film and Electronic Media
Graduate Cert Curriculum and Instruction
BA Communication Arts

Favorite Spot on Campus

Old cherry trees beside EQB when they are blooming

Bio

Kayden Kassof is the Instructional Technologist and Learning Space Designer at American University. They work with stakeholders around the University to design new classroom technology as well as organize the enterprise classroom modernization plan. In addition to design, they act as the technical project manager on most AV projects at the University, work on selecting and implementing new instructional technology tools, and provide AV support at high profile University events. They have worked in the AV department in various technical roles since 2009. Prior to that they provided LMS and software support and training, and planned teaching conferences and workshops.


Kayden is on the leadership committee for the AU LGBTQ+ Affinity Group and an active member of SEIU Local 500 AU Staff Union.




Outside of AU, Kayden is involved in several professional organizations. They sit on the Board of Directors, are the chair of the Professional Development Committee, and the leader of the Diversify, Equity, and Inclusion Interest Group for the Consortium of College and University Media Centers (CCUMC). They sit on the Board of Directors and are the Diversity, Equity, and Inclusion chairperson for the Higher Education Media Technology Association (HETMA). They are also a member of the Audiovisual and Integrated Experience Association (AVIXA) Diversity Council.




Kayden has an MFA in Film and Electronic Media specializing in documentary cinematography and a Graduate Certificate in Curriculum and Instruction focusing on nontraditional education.




Outside of work, Kayden has many diverse hobbies including peal bell ringing, photography, hiking and camping, home improvement, gardening, baking, and cooking. They're also an avid reader and barely use their high-tech AV setup at home.