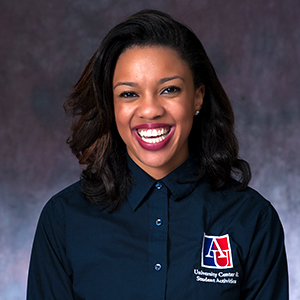 Tya Scott

Coordinator, Scheduling & Event Services University Center
Degrees

BA Public Communications 2014, School of Public Communications- American University

Bio

Tya Scott joined the UCSA team in October 2014 and serves as the core scheduler of the University Center by handling the logistical needs of both outdoor and University Center footprint spaces. Prior to assuming this role, Tya worked for the department as a Student Building Manager and then Senior Manager throughout her four years at AU. Originally from Philadelphia, Pennsylvania, Tya graduated from AU's School of Communications with a bachelor's degree in Public Communications. Outside of work, Tya enjoys traveling, shopping, watching sports, and spending time with family and friends.