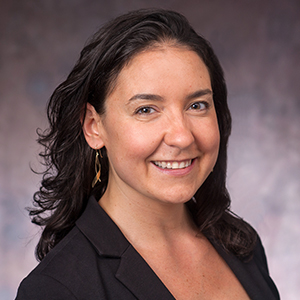 Zoe Root

Part Time Staff Department of Justice, Law & Criminology
Degrees

J.D. - Northeastern University School of Law; B.A. Psychology - Vassar College

Bio

Zoë is Senior Policy Counsel at the Justice Programs Office (JPO) and an Adjunct Instructor in the School of Public Affairs at American University. At JPO, she works on the Right to Counsel National Campaign, and is the project director of the Juvenile Drug Treatment Court (JDTC) Initiative, providing training and technical assistance to JDTC's nationally working to bring their policies and practices into alignment with the Office of Juvenile Justice and Delinquency Prevention's JDTC Guidelines. Zoë joined JPO after five years as a supervising attorney and staff attorney at The Bronx Defenders. During her time as a public defender, she represented thousands of clients facing felony and misdemeanor charges, trained and supervised first-year attorneys, directed the Prostitution Conviction Vacatur Project and served as coordinating attorney in the Bronx County human trafficking intervention court. Prior to law school she worked as a court representative at the Center for Alternative Sentencing and Employment Services (CASES), an alternative-to-incarceration program for adolescents in New York City. She also worked as a paralegal at an immigration law firm, and as a scuba diving instructor in Honduras. During law school, Zoë interned at the Center for Appellate Litigation, the Bronx Defenders, the Committee for Public Counsel Services, and the U.S. Attorney's Office.