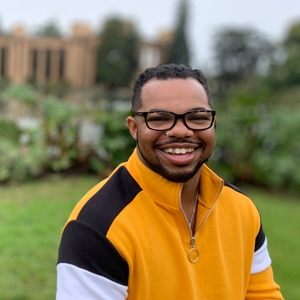 Justin Wright

Anthropology (PhD)
Degrees

M.A. Theatre and Performance Studies, Washington University in St. Louis

B.A. Anthropology, Theatre, Transylvania University

Bio

Justin D. Wright is a socio-cultural anthropologist, performance studies scholar, theatre artist, and award winning performance poet. In each his scholarly and artistic pursuits, he is concerned with the mutability of the archive and minoritarian identity reformation. Drawing from performance, Black feminist, postcolonial, and cultural theorists and writers—including Saidiya Hartman, Rebecca Schneider, M. NourbeSe Philip, and Ntozake Shange—his work attempts to challenge and reconstruct dominant narratives of national memory. As he is invested in the entanglement of Black historical traumas with contemporary representations of Black collectivity, such as what we experience in protest movements, he also draws heavily from scholars such as Elizabeth Alexander, André Lepecki, Susan Foster, and Kimberly Juanita Brown. To this end, he examines performances of the political as they occur in pedestrian spaces, particularly through the ways the nation-state (re)enacts historical and contemporary violence, retraumatizing black people and their bodies via modes of oppression such as voter suppression, the delegitimization of protest efforts, enduring negative media depictions of Black bodies, and primarily, police militarization.

Additionally, Justin's current research focuses on how tactics of on-the-ground protest movements, specifically those concerning Black liberation, might circumnavigate police violence and media delegitimization.