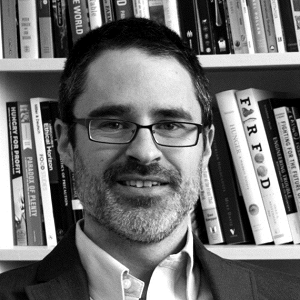 Degrees

Ph.D., International Relations, American University; LLM, University of Waikato (New Zealand)

Bio

Dr. Simon Nicholson is the director of the Global Environmental Politics program in the School of International Service and Assistant Professor of International Relations. His work focuses on global environmental governance, global food politics, and the politics of emerging technologies, including climate engineering (or "geoengineering") technologies. He is co-founder of the Forum for Climate Engineering Assessment, a scholarly initiative of the School of International Service.
Partnerships & Affiliations
Scholarly, Creative & Professional Activities
Research Interests
Professor Nicholson's research and teaching focus on the politics of food and agriculture, global environmental and energy politics, the political and social implications of geoengineering, and issues to do with emerging technologies.
Selected Publications
BOOKS and SPECIAL ISSUES
ARTICLES and BOOK CHAPTERS
"The Birth of Free-Market Environmentalism," (2015) The Journal of Interdisciplinary History XLVI: 3, pp. 421-433.
"Genetically Modified Foods and the Global Food Crisis," in Guy Robinson et al. (eds.), The Globalisation of Agriculture (Edward Elgar, 2015).
"Governance and Global Environmental Issues: Cooperation in the Twenty-first Century (2000s-present)," in Sally Fairfax and Ed Russel (eds.), The Guide to US Environmental Policy (Congressional Quarterly Press, 2014).
"Environmentalism: Cars, Farming, and Resource Insecurity," in Jennifer Sterling-Folker (ed.), Making Sense of IR Theory (2nd ed.) (Lynne Rienner, 2013).
"The Promises and Perils of Geoengineering," in Worldwatch Institute, State of the World 2013: Is Sustainability Still Possible? (Island Press, 2013).
"Feeding 10 Billion: A Dialogue Between Feed the Future and the International Research Community," (2011) Report for the US Agency for International Development (USAID), US Department of Agriculture (USDA), and the Association of Public and Landgrant Universities (APLU).
(with Daniel Chong) "Jumping on the Human Rights Bandwagon: How Rights-based Linkages can Refocus Climate Politics," (2011) Global Environmental Politics vol. 11, no.3, pp. 121-136.
Review essay, "Understanding and Governing the Global Food System," (2011) Global Environmental Politics vol. 11, no. 2, pp. 120-125.
"Intelligent Design? Unpacking Geoengineering's Hidden Sacrifices," in Michael Maniates and John Meyer (eds.) The Environmental Politics of Sacrifice (MIT Press, 2010.)