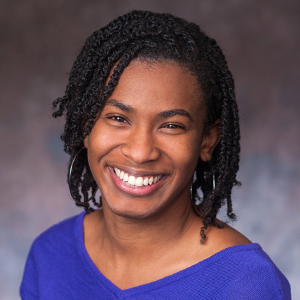 Trevonne Homer

Assistant to the Dean School of Communication
Degrees

B.A. Sociology/Women's, Gender, & Sexuality Studies; Emory University 2013

MPA International Management; American University (Anticipated 2018)

Bio

As the Assistant to the Dean, Trevonne provides executive administrative support to the Dean and manages the daily operations of the Office of the Dean. In addition to managing the Dean's calendar and office communications, she provides support for capital campaign activities, organizes special projects/events, and assists with school-wide reputation building. As the school's Inclusion Coordinator, Trevonne coordinates diversity and inclusion initiatives in the School of Communication in conjunction with SOC's Inclusion Officer and Diversity Committee. She organizes workshops, training opportunities, and events to positively impact recruitment, retention, and engagement of underrepresented students, staff, and faculty. Trevonne has a solid higher education administration and event management background. At the University of Maryland, she managed logistics as the Artist Services Coordinator for the Clarice Smith Performing Arts Center and ran programs for the UMD LGBT Equity Center. She holds a B.A. in Sociology and Women's, Gender and Sexuality Studies from Emory University. While at Emory University, she worked at the MBA programs office and coordinated events for Emory's Athletics and Recreation department. Trevonne is currently pursuing a Master in Public Administration from American University with a focus in International Management. She is passionate about developing programs and interventions to build strong managers and teams. She serves as a Crisis Intervention Advocate and Curriculum Facilitator for the DC Rape Crisis Center where she presents curricula and leads conversations around sexual assault risk education to children and youth at DC schools and community based organizations. Trevonne is originally from St. Thomas U.S. Virgin Islands and enjoys travelling, dancing, playing rugby, and bonding with nature.