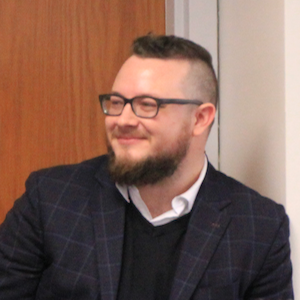 Degrees

PhD, Political Science and Public Administration, American University

MA, Political Science, American University

BA, Political Science and Journalism, Indiana University of Pennsylvania

Bio

Dr. William L. Harder is a political scientist, researcher, and educator.

His work falls into two main categories. First, he examines U.S. state and local politics (with an emphasis on governors), administrative policymaking, and the political uses of social media at the state and local level. Second, he also conducts pedagogical research on how to construct inclusive, equitable, and antiracist classroom environments--particularly focusing on the research methods curriculum.

He teaches courses in American University's Department of Government, the School of International Service, and the University Honors Program. He has taught courses on public policy, the presidency, American politics, social media, and network analysis. He is also an affiliated researcher with the Center for Media and Social Impact.

Previously, he served as the Qualitative/Survey Research Methodologist at American University's Center for Teaching, Research, and Learning. In this role he provided methodological consultations to the AU community. In addition to general research methodology, he specializes in computer-assisted qualitative research, survey design, social media analysis, and network analysis.

He received the American Political Science Association's Presidency Research Group Fellowship as well as several other awards for his research and teaching. His writing and scholarship has been featured on NPR's All Things Considered and the Philadelphia Inquirer among other outlets. Prior to coming to AU, he worked for the American Political Science Association, the World Wildlife Fund, and Resources for the Future.