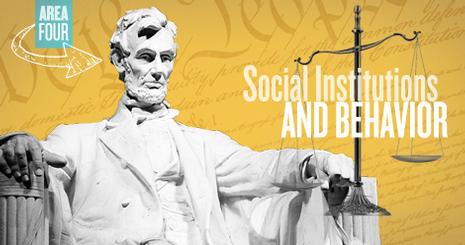 In comprehending the mechanisms and rules that give shape to complex societies, we gain strength to influence institutional processes. Through reflection on principles that explain human behavior, we create understanding of our interpersonal experiences.
Courses in this Foundational Area are of several kinds: those that use one of the traditional social science disciplines to provide an overview of the interaction of individuals and the institutions that shape our economic, political, and social experience; those that focus on a single institution and the complex ways in which it affects our lives; and those that use a societal dilemma as the entry point for discovering the ways in which the quality of individual life is protected or challenged in various settings.
The many and distinct disciplines that contribute to this area are united by a self-conscious dedication to the modes of inquiry of contemporary social science, as applied to the American experience. As strongly as it emphasizes the substance of knowledge, this Foundational Area emphasizes how we create knowledge and arrive at understanding.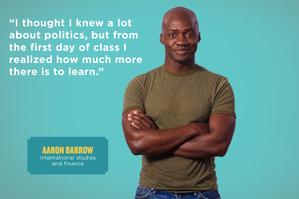 study the institutions, systems, and patterns of governance and of economic and social organization that underlie contemporary societies
place policy options and their consequences in their appropriate social and political context, drawing on classic and contemporary theories of human organization
develop your capacity to critically reflect on the organization of societies and the relationship between the individual and the society, using the distinctive methods of inquiry appropriate to the study of social institutions
See Schedule of Classes for class times and course descriptions.
Anthropology
ANTH-150 Anthropology of Life in the United States
American Studies
AMST-240 Poverty and Culture
Communication
COMM-100 Understanding Media
COMM-209 Communication and Society
COMM-275 Dissident Media: Voices from the Underground
Economics
ECON-100 Macroeconomics
ECON-200 Microeconomics
Education
EDU-205 Schools and Society
Finance
FIN-200 Personal Finance and Financial Institutions
Government
GOVT-110 Politics in the United States
GOVT-210 Political Power and American Public Policy
SPA-220 The American Constitution
Health and Fitness
HPRM-245 Multicultural Health
History
HIST-210 Ethnicity in America
HIST-220 Women in America since 1850
Interdisciplinary
IDIS-210 Contemporary Multi-Ethnic Voices
Justice, Law and Society
JLC-200 Deprivation of Liberty
JLC-210 Violence and Institutions
JLC-245 Cities and Crime
Philosophy
PHIL-240 Ethics in the Professions
Psychology
PSYC-105 Psychology: Understanding Human Behavior
PSYC-205 Social Psychology
PSYC-215 Abnormal Psychology and Society
PSYC-235 Theories of Personality
Public Health
PUBH-110 Intro to Public Health
Sociology
SOCY-100 U.S. Society
SOCY-150 Global Sociology
SOCY-205 Diverse and Changing Families
SOCY-210 Power, Privilege and Inequality
Women's, Gender and Sexualities Studies
WGSS-125 Gender in Society
WGSS-225 Gender, Politics and Power
WGSS-240 Sexualities Studies