Research
Challenging Western Misconceptions through Fashion Research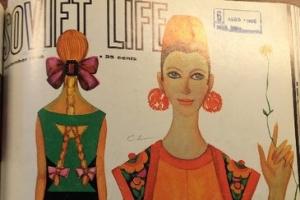 In the American imagination, Soviet fashion reflects the widespread deprivation and lack of modishness under socialism. While such perceptions thrived during the Cold War, the Soviet collapse ensured their continued existence. However, Ruth Gabor, a Ph.D. student in History, is challenging the Western-centric interpretations of Soviet culture by digging deeper into Soviet fashion's influence and reception abroad during the Cold War, exploring exhibitions, exchanges, foreign trade, and magazines. Ruth's findings so far are fascinating: Soviet fashion was inclusive, conspicuous , and received extensive coverage in the press at home and abroad.
Ruth is working on her doctoral dissertation, "Exposing Couture: Soviet Fashion on Display during the Cold War." She conducted research at the Russian State Archive of the Economy (RGAE) in Moscow, the US National Archives in College Park, MD, and the Library of Congress, collecting information from various archival and periodical sources.
Fashion, Ruth suggests, was a universal concern that transcended the East-West divide in many ways. Because of fashion's universality, and its importance in the Cold War, the Soviet Union engaged with international tastes and demands in showcasing and exporting its clothing (in addition to sewing machines, furs, and fabrics). Moscow even became a fashion capital of sorts in 1967 when it hosted the International Fashion Festival and Clothing Exhibition.
As a cultural export, Soviet style also revealed many aspects of the Soviet Union's unique culture, including its emphasis on artistic and industrial production, and its embrace of diversity. While the Soviet Union displayed its fashions at exhibitions internationally, it also disseminated ideas about dress to women from different regional, occupational, and national backgrounds through women's and fashion magazines at home, such as Rabotnitsa ( Woman Worker), Krest'ianka ( Peasant Woman), and Zhurnal mod ( Fashion Journal). Soviet Woman (the English-language version of Sovetskaia zhenshchina), and other publications in foreign languages, propagated Soviet style to foreign countries. In a symbolic sense, Ruth believes that these magazines, which also provided designs for women's varying shapes and sizes, combined with Soviet fashion's global appearances during the Cold War, reveal that the Soviet Union took a democratic approach to fashion, promoting its globality, and making it accessible to masses within and beyond Soviet borders.
Rather than treat fashion as a Western import, Ruth's dissertation will focus on its role as a Soviet export. She will attempt to evaluate Soviet fashion's overall cultural influence domestically and internationally, focusing on perceptions during the Cold War from perspectives on both sides of the East-West divide. The broader significance of her dissertation lies in its endeavor to challenge many misperceptions, particularly in America, in both scholarship and popular opinion that associate Soviet fashion with failure.
Ruth believes that the Soviet perspective of its fashion endeavors will show Americans that fashion was an important concern under socialism and in the context of the Cold War. And presenting American and other Western perceptions, that perhaps uncover admiration for certain aspects of Sovietstyle , will hopefully persuade those in the West to reconsider Soviet fashion's place in the East-West competition, in global fashion, considering its possible contemporary contributions, and in history.