Arts and Culture
MFA Students Share Works in Cozy Coffeehouse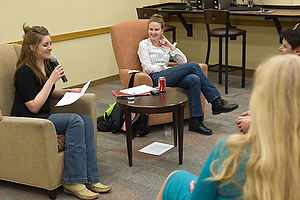 Coffee and scones were on the menu at the Mud Box for the March 16 Literary Afternoons in the Library, as were readings from the recent works of  MFA creative writing students Claire Kinnane and Anne Lacy.
Kinnane treated the audience to several new pieces, including "Loving Los Angeles," about the city she once called home.  She delights, said the poet, in "reading a poem that's fresh out of my brain—it could be goofy or exquisite." But, she made it clear she's ready to hear what her audience says. "If you hear a line you don't understand or like, I'll fix it," she said with a smile—"I have my pencil right here."
The next Literary Afternoon will be April 20, from 3:30 to 4:30 p.m.