Professional News
Experiential Learning Central to New MS in Marketing Degree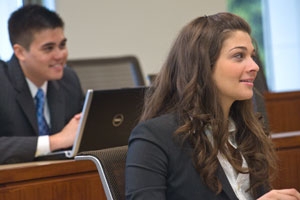 Kogod's newest graduate degree program, the Master of Science in Marketing, features an applied learning project in partnership with a local, award-winning marketing firm.
Aimed at rising marketing professionals, the 30-credit hour program features a cohort-based model and is open only to full-time graduate students. It requires students to have completed satisfactory marketing coursework prior to enrolling, and is designed to ensure that graduates are equipped to contribute value to their organizations from their very first day on the job.
"This new degree is a well-timed offering that responds to the increased market demand for specialized skills," said Dean Michael J. Ginzberg. "It is tailored to help graduates stand out in this highly competitive industry segment."
Unique to the program is the Kogod Signature Marketing Experience. For this, students will work in cross-functional teams on a real-world marketing campaign, alongside metro-D.C. based RedPeg Marketing.
The Applied Client Project is designed to expose students to all aspects of the development, execution, and assessment of a marketing campaign. Students will lead the project from start to finish, including market research, strategic planning, creative implementation, and a plan for campaign measurement.
"By partnering with a marketing agency to help build an unmatched MS in Marketing program, AU has shown its strong commitment to its students," said Brad Nierenberg, president and CEO of RedPeg Marketing. "Together, RedPeg and AU will provide a best-in-class hands-on experience, and give students the opportunities to work with the biggest brands in the world."
RedPeg's clients have included successful brands in a variety of industries, including GEICO, Zyrtec, Rosetta Stone, Pepsi, and Anheuser-Busch, among others.
Faculty Leadership
The Dean has appointed Michael Clayton, a former industry executive with a passion for teaching and mentoring, to direct the degree program.
Professor Clayton's marketing experience includes nearly a decade in account management and planning in Detroit with firms Campbell-Ewald and BBDO. He oversaw marketing communications for iconic brands including Chevrolet, Corvette and Dodge, as well as strategy and research for Michelin. He holds a PhD in Mass Communication from the University of Florida, and has extensive teaching experience.
"Students will be very engaged outside of the classroom, working with their peers in the cohort," Clayton said. "We will form cross-functional teams that will marry their different strengths, in the same way agencies operate."
Applications are now being accepted for the MS in Marketing for Fall 2013 enrollment.