On Campus
Grad Class Takes on Live Business Challenges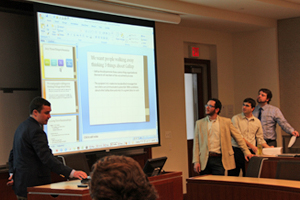 Graduate students are making a difference beyond the classroom at Kogod.
For the second year, groups of students presented recommendations and implementation plans to client collaborators in Associate Professor Mark Clark's Human Capital Management class.
Some of these suggestions may be used to help solve the structurally complicated and logistically complex issues facing businesses headquartered in the D.C. area.
Problems like MBA recruitment at Gallup, R & D operating models at Pfizer, internal communications and training at Deloitte, and metrics for job creation programs at the Interagency Network of Enterprise Assistance Providers (INEAP).
"We felt we were able to add real value to a very reputable, successful client organization," said Ari Goldman, MBA '12, a member of the team that worked with Gallup. "This opportunity is not often found in the classroom setting…it was one of the most valuable projects in my graduate school experience."
Completed over the course of the semester, the projects involved supporting the client—through the consulting firm or directly—or working on real client engagement.
"Students in this class have an opportunity to give input that has the potential to have an impact," said Clark. "They are contributing time and effort to real world problems."
Through the process, students gained an understanding of the culture, strategy, and leadership of the large, well-known organizations they worked with. Past organizations have included Mercer, Infosys, Discovery, and the IRS.
Many of these companies already employ Kogod and AU alums; others are looking to hire or strongly considering AU as a potential recruitment pool.
"We want to orient our curriculum toward cutting edge market needs," said Clark.