School of Communication Proves Great Fit for International Student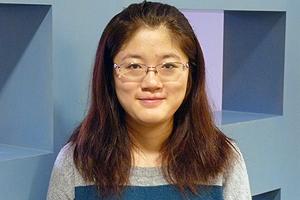 When I chose my graduate school, I wanted to learn something new but related to my background, as a result, I decided on public communication as my major.
For me it was really hard to decide on a graduate school. I majored in marketing at an Australian university, the University of Tasmania, as an undergraduate. When I applied to graduate schools I took the three main factors into consideration. The first was the university's reputation and capabilities—if the whole university has a good reputation in China, I would have an advantage when seeking a job when I go back home.
The second is the graduate program's competitiveness. Whether the program is highly ranked compared to other universities' programs. Finally, if I want to be a PR professional, it is not enough for me to have abundant theory expertise; I should also have the practical experience as well. Thus the last standpoint to select a university is location—there should be many opportunities to get some real-world experience.
It is easy to choose by one individual factor, but it is hard to find a university that covers everything—elite university, competitive program and good location. After numerous searches, I finally found American University School of Communication, which perfectly met all my aspirations for graduate study.
When I was admitted by AU, I was so excited and told all of my friends. But there was a language barrier that made my news confusing: American University translated into Chinese has the same meaning as the "universities in America". Some of my friend kept asking " I know you will go to America for the graduate study, but to which university will you go?"
After I accepted the offer from SOC, I started to apply for a visa, take the physical examination and find a house. I met my roommates and found my apartment by the Chinese social network—Tencent. My roommates are pretty nice and they are both good at cooking Chinese cuisine.
Now I have been here for two months, and honestly speaking, the graduate school study is tough and challenging. But even though there are some problems for me as a second language student, there is always someone who can help me. The professors are nice, and they really care about our academic study.
There is a lot of thing to do in the city, what I like most is just walking around in the city to look at the different architecture, and enjoying the sunshine.