Alumni
Student-Managed Fund Pays Off in Experience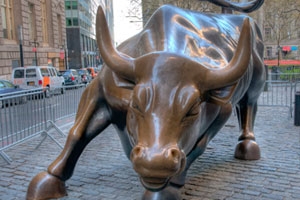 Imagine sitting across from a Wall Street recruiter, interviewing for an entry-level job in one of the most competitive fields in the world. Nerve-wracking, to say the least.
Here's the twist: beyond your academic credentials and interview preparation, you have something more to offer him in your portfolio: a professional investment pitch, one already vetted by fellow students and faculty advisors.
The students who run Kogod's Student Managed Investment Fund (SMIF) have just that. The course, offered to undergraduate and graduate students, provides them with a unique opportunity to gain hands-on experience in securities analysis and portfolio management.
Student participants work together, just like an asset management team would, to oversee an equity portfolio worth more than $300,000. They use Kogod's cutting-edge Financial Services and IT (FSIT) Lab to keep close watch on market developments.
Assistant Professor Phil English, one of SMIF's three faculty advisors, knows that the experience has been a "major factor" in students' interview process with potential employers. Young Kogod SMIF alumni have landed jobs in New York at top firms like Citigroup, Merrill Lynch, and J.P. Morgan.
Seth Borko, BSBA '12, who served as the fund's portfolio manager during his senior year and now works in the private banking division at J.P. Morgan, is among them.
"No class truly prepared me for the real world, but the SMIF came about as close as it gets, he said. "You are given very real responsibility as a standard part of the course, and there is a lot of critical thinking involved."
Gerardo Rodriguez, BSBA '07 and an associate at Morgan Stanley in the Institutional Equities Division, agrees: "Being on the other side of the [interview] table now, it's noticeable who is knowledgeable and who just memorized the headlines."
English recently received an inquiry from the human resources department at one of the largest banks in the country, asking for students' resumes with a particular set of skills and experiences. "The skills and experiences the SMIF provides was the second criteria on their list," he said.
Giving Back
The impact of SMIF is starting to come full circle.
Rich Golaszewski, BSBA '07, is now a Vice President at Nomura Securities in Equity & Fund Investment Solutions. He participated in the precursor to the SMIF, the Kogod Finance Group, from 2003-2007.
When Golaszewski decided he wanted to give back to American University, the SMIF immediately came to mind.
"Everyday I continue to realize how much of an impact [my Kogod] education has had on my life," Golaszewski said. "Narrowing things down, the SMIF (then the Kogod Finance Group) is an experience I am especially fond of. I want to continue to see students receive the tremendous value that I did from the program."
A presentation at a New York Finance Network event earlier this year moved Rodriguez to make the same decision.
"I was thoroughly impressed and frankly surprised that the persons presenting [that evening] were students and not alumni," Rodriguez said. "The students' dedication and Professor English's involvement inspired me to want to contribute."
Several other Kogod alumni have also contributed to the financial growth of the SMIF, including Dean Factor, BSBA '87 and cofounder and partner at Lindbrook Capital, and David C. Wajsgras, MBA '89 and senior vice president and chief financial officer of Raytheon.
Continued growth of the SMIF—size of the fund and the number of students that can participate—is the goal of alumni, students, and faculty alike.
"It's been absolutely incredible and extremely rewarding," English said of being involved with the SMIF. "The feedback from alumni of the fund and the broader alumni community has been overwhelmingly positive."