International
Living, Learning and Reflecting: An SIS Graduate Student Experience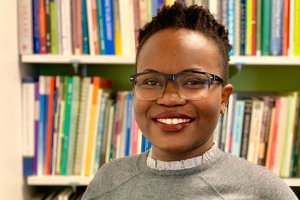 Wendy is originally from Nairobi, Kenya. She double-majored in Chemistry & Political Science in Illinois and worked at the International Union for Conservation of Nature in Laos before joining SIS. When considering graduate programs, Wendy was searching for a global program – global in coursework, in faculty research, and student body. In SIS she found the diversity she was seeking. Wendy is a second-year graduate student in the Global Environmental Policy Program with a focus on water and urbanization in the global South. "I can't rave about my professors enough," she says. She highlights two faculty members that have impacted her research interests, Malini Ranganathan and Ken Conca.
What Makes SIS Special
"I loved that SIS has a very interdisciplinary focus. I started out interested in science and that shifted to an interest in policy in undergrad. At SIS I've been able to delve into environmental topics not only globally but from a variety of perspectives — economics, history, law, statistics, anthropology. As I wrap up my program and start looking into careers, I can see how this multidisciplinary approach is very beneficial to the kinds of problems I am interested in solving," Wendy happily states. 

A busy day, a busy life
Wendy isn't only taking courses at American University. She's also an intern at the Right and Resources Initiative and the Director of Resources and Training at the Journal of International Service, the student-run graduate journal at SIS. A day in her life looks busy. She's at her internship from 9 am to 3 pm, Then, she commutes to campus to lead one of the writing workshops sponsored by the JIS. After that, she heads to class, and she stays at the Graduate Research Center until 10 pm getting homework done or getting ahead on her capstone research paper.
Journal of International Service
Wendy's work at the Journal involves running periodic training and workshops for all its members on writing and grammar etiquette under the Chicago Manual of Style. She ensures that all the peer-reviewers and editors are qualified to revise and critique professional articles, situational reports, literature reviews, book reviews, and policy briefs from other students.
Her role is essential for the Journal to transform their submissions into publishable pieces. "I know that my work in the future will involve a great deal of writing and the exposure I receive through reading and revising JIS submissions helps me improve how I express myself," she says.
Flood Risk & Urban Informality
Wendy is also authoring a capstone project on flood risk and urban informality in her native Nairobi. She's looking specifically at the role that the government plays in increasing citizens' risk to hazards in informal settlements, including flood risk. One of the neighborhoods she's studying is Kibera. "It's existed since the 1920s and there are by my estimation hundreds if not thousands of NGOs working to improve the lives of Kibera residents, but the outcomes are still the same. There must be a deeper reason for why people are subjected to these poor living conditions," she explains.