Winter Weekend Wows Students
By Patrick Bradley
January 30, 2013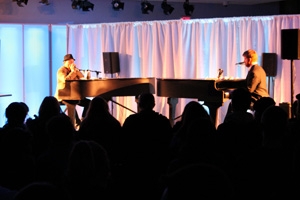 On January 26th and 27th, the Mary Graydon Center opened its doors to students, staff, faculty, and a brand new tradition – Winter Weekend. The two-day affair featured highly attended events ranging from a student involvement fair to dueling pianos and even an indoor ice skating rink.

Associate director for programming and operations in the University Center Jonathon Sorge co-coordinated the weekend's festivities, which included Friday night's student involvement fair and the Mary Graydon second flood open house. The evening aimed at getting students engaged with any of the 90 student organizations in attendance as well as with the student group and Campus Life offices that occupy MGC's second floor.

MGC, the campus hub, hosted upwards of 800 students between the two nights, and – according to Sorge – that's clear evidence of students' needs.

"There's a need for large-scale programming," he said on Saturday night. "I think late-night programming on campus is something students are wanting and embracing. The fact that we have at least five hundred students here tonight when the weather is good proves that there is a need for this tradition and late-night weekend programming."

Saturday night's events – dubbed the Mary Graydon House Party – brought out scores of excited students under the theme of Fire & Ice. Students could glide across the indoor ice skating rink in the U Club, heat up the WVAU dance floor in the Marketplace, or sing along with Bobby McKey's dueling pianos in the Tavern.

University Center coordinator of programming initiatives Katie Junot organized Winter Weekend alongside Sorge. She said that students can expect the celebration to stick around for years to come, and that's exactly what AU students are looking for – tradition.

"I think students embrace it as a new AU tradition," she said. "That's what a lot of the language was when we promoted it. I think they were wanting to hopefully be a part of a new AU tradition."

While Sorge and Junot oversaw much of the work, they're quick to point out that the weekend's success was due in large part to collaborations across campus.

"We partnered with Student Government, RHA, WVAU, and the University Center Events Board to put multiple people in the mix, helping promote it [and] getting feedback on what they thought would work," he said. "Showing that there are multiple people on our campus and in our community putting it on makes it that much bigger a success."

The multiple people on campus that helped also included School of Communication and Kogod School of Business junior Tya Scott. As senior building manager for the University Center, she worked with the other 30 student staff members for several weeks in the lead up to Winter Weekend.

For her, it was gratifying to see the events finally come together.

"I think it's important for us to have activities like this," she said. "We had a big one like this for Welcome Week, and it was pretty successful. So, I think it's something that, if we make more tradition for it, it will be picked up by the AU community."

Enjoying piano versions of classics like Journey's "Don't Stop Believing," sophomore Nathan Strauss could see the event continuing on in the future.

"This is very cool in here. The pianos are awesome," he said as the dueling pianists performed Cee Lo Green's "Forget You." "I think it would be great if they kept doing this. I love when they have on-campus stuff in MGC. It's always fun."

As students who attended look back on the weekend and its festivities, Sorge and Junot hope the group takes away a particular feeling.

"[That] it was something different," Sorge said.

"Something they've never seen before," Junot interjected over the dance floor's music.

Looking ahead, Sorge is hopeful for similar programming on campus, particularly in MGC.

"Most of the students are in here at least twice a week. If they walk in here and see it totally different, it allows for a different vibe and a different excitement," he said. "I think students can totally get into that."

Whether it's Fire or Ice from here on out, it seems like late-night events will be here to stay.