Achievements
Communication Seniors Celebrate Success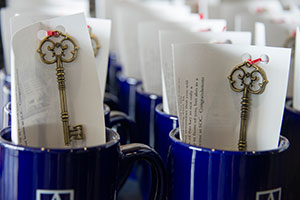 With American University commencement just days away, School of Communication faculty, staff and alumni came together to celebrate SOC's graduating class of 2014. Dean Jeffrey Rutenbeck noted some of the many accomplishments of this group, and his pride in the first class to graduate from SOC's new home in the McKinley building. View photo gallery

In an address to the seniors, Clarence Fluker (SOC/MA '02), signature programs co-chair of the American University Black Alumni Alliance, added these words of advice, "In addition to a world-class education, what you make here are world-class connections, relationships and friendships that will last you through the years as alumni. All of those things are great springboards for what is to come your lives." Fluker is Communications & Special Initiatives Director for the Executive Office of the Mayor, District of Columbia Government.
Several faculty members including professors W. Joseph Campbell, Jane Hall, Pallavi Kumar, Chris Palmer, and Scott Talan mirrored Fluker's remarks and shared their own tips for success post graduation and the importance of staying connected with the AU family. A cappella group On a Sensual Note performed and received enthusiastic applause.

Seniors Share Their SOC Sentiments

"Through my involvement with the SOC Ambassadors I've been able to show my spirit and pride in SOC, particularly to prospective students. It's something I'm proud of and an experience I'll certainly remember post-graduation."


"I've made some of my best friends through SOC—and have grown as a person in my time here."



Berenice Medina, Public Communication

"One of my favorite memories from SOC was when I got the opportunity to see President Obama speak at the AU Greenberg Theater. It gave me new insight to see him in a position where he was open with students and the challenges he faces."


"I joined the SOC Ambassadors as a freshman, and it's been one of my greatest SOC experiences."


---

Award-winning journalist and TV personality, Katie Couric, will speak at the 2014 School of Communication commencement ceremony Saturday, May 10, at American University. Ceremonies begin at 9:00 a.m. in AU's Bender Arena. Learn more