Business
Racking Up Recognition: Kogod Students and Faculty Earn Awards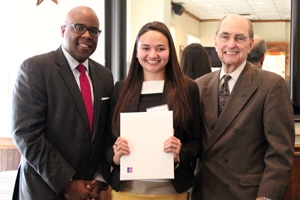 The academic year brought new kudos to a number of Kogod students, faculty and staff. Congratulations to these individuals for the well-earned recognition.
Charles C. Glover Award
Jasmine Simawang, BSA '14, earned the Charles C. Glover Award, given to seniors who showcase business leadership and citizenship through service to the American University community. Simawang, who will be joining EY's assurance department after graduation, finished her degree in three years. During that time, she served as a Peer Advisor and member of the 1955 Club.
Accounting Scholarships
The Greater Washington Society of CPAs bestowed scholarships upon two Kogod accounting students.
Brian Furao, BSA '14, received the Past President's Award, which goes to students who demonstrate strong leadership qualities in addition to high academic marks. Heidi Friedrich, BSA '15, received the Sue Marcum Service Award. This award, named for a late Kogod professor, goes to students with a strong history of community service and betterment.
Advisory Council Appointment
Nick D'Antonio, BSBA '14, has been named to the ACT Foundation's inaugural National Working Learner Advisory Council. The council, consisting of 12 members, represents the growing population of full-time students who also work full-time. In addition to his academic obligations, D'Antonio worked full-time for The Manufacturing Institute, an arm of the National Association of Manufacturers.
D'Antonio and his fellow board members will address the challenges other working learners face and work to find solutions to those challenges.
Faculty Awards
Executive-in-Residence Casey Evans received the university's Outstanding Teaching in a Term Appointment award for her commitment to students. Evans, who will become the new faculty program director for the MS Accounting degree, also received the Undergraduate Professor of the Year from the Undergraduate Business Association.
Professor Edward Wasil received the Graduate Professor of the Year award from the Graduate Business Association.