Business
Naval Employee Hopes to Advance with Help from Kogod PMBA Program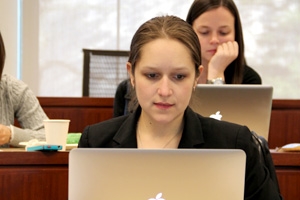 Kari Jo Tiede enjoys her work as a budget analyst with the Department of the Navy but hopes to someday advance within the organization. She enrolled in the first cohort of the Professional MBA (PMBA) at the Kogod School of Business with that goal in mind.
"I'm currently a budget analyst for the Department of the Navy. I'm a GS-13, but would like to move up to a GS-15," Tiede said.
The General Schedule (GS) is the predominant pay scale of the United States Civil Service. The GS includes a majority of the professional, technical, administrative, and clerical positions within the federal government.
"I wanted to have the same knowledge and skills as my peers who work as government contractors or in private sector positions. An MBA gives you that knowledge and closes the gap," said Tiede, who will graduate in May of next year. "It levels the playing field."
Competitive Advantage
According to Tiede, many of her colleagues at the Department of the Navy are also pursuing their MBA degrees.
"I work with five people who are also pursuing an MBA. I think it's an important stepping stone to moving up and becoming well-placed within the government," she said. "It's good for [government workers] to have a background in business because it increases the variety of projects you're able to manage and allows you to do more with your career." 
Although Tiede has no plans to leave government service, she believes an MBA will help if she chooses to pursue a position in the private sector.
"The MBA is a good way for someone with a government background to move into the private sector," she said.
On Her Time
A variety of factors put the Kogod PMBA above other programs for Tiede, including the schedule and the school's atmosphere.
"The PMBA's class schedule fit into my life very easily—none of the other local universities offered a program that was equally convenient," Tiede said. "You're on campus one day per week and can do the online learning part of the program on your own time."
The Kogod PMBA requires students to attend class one evening a week. They take one course at a time, and complete their degree in just 27 months. The all-inclusive tuition includes class materials, an iPad, international travel, and meals during class times, taking the guesswork out of budgeting for the degree, another plus for students.
Tiede also felt at home among the students, staff, and faculty at Kogod.
"The faculty and staff take a vested interest in you and your career. I don't think that's the case at other universities. You're not only armed with a degree when you graduate, but you have the support of your fellow students, faculty, and staff," Tiede said.