Communications
Superheroine Struggles Focus of Alumna's New Web Series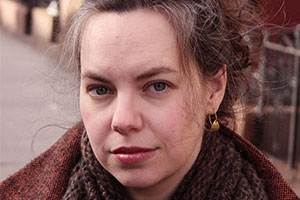 We sat down with Annie Coburn, (SOC/MFA '11) to talk about her pursuing her passion for fiction filmmaking and preparing to shoot a new web series while working with Emmy Award-winning Diva Communications.

Coburn, who received her MFA in Film and Electronic Media, has directed several plays and written, produced, or directed several short films, including her thesis film, Pretty All the Time, (Cleveland International Film Festival 2012, Frederick Film Festival 2012, winner of Script DC 2009), and Five Points, (Southern Colorado Film Festival 2013, Buffalo Dreams Fantastic Film Festival 2013). In 2014, she will direct 36F, a web series about a superheroine trying to navigate everyday life. In 2013, she cast and helped produce Shenanigans, directed by Colin Foster and Peter Kimball (Los Angeles International Film Festival, Vancouver International Film Festival, and DC Shorts, among others). Coburn resides in New York City with her husband and 3-month-old daughter.

Q: Tell us about your new web series and why you've chosen web as a format?

AC: 36F tells the story of two superheroines—Harriet and Lobsterclawgirl—trying to live in the everyday world, dealing with things like bras, insurance, and how to pee while wearing super-suits. It was inspired by a few different things: I was pregnant, and couldn't move very well, so I would endlessly surf Twitter, following the sci-fi fantasy community as it was having a long-overdue melt-down over the role of women and people of color in the genre.

At the same time, I needed new bras to accommodate my growth as the pregnancy progressed. As many women will tell you, having large breasts is a huge pain, emotionally, logistically, and financially—but so many superheroines are very well—almost anti-gravitationally—endowed, and it never seems to get in their way! And it made me think about what other logistical problems of being a superheroine might be. From there, it progressed into a story about two new superheroines trying to figure out how to be a superhero—and what being a superhero actually means.

I chose a web format for a lot of different reasons—there's a very low bar for distribution via Youtube or Vimeo, there's a (low) possibility of monetization, and 36F feels native to the online community. I also see the possibility of it having a broader audience online than through the festival circuit, which is important to me. But I'd love to sell the series to an online distributor like Netflix or Hulu.

Q: What courses influenced your current creative work?

AC: Gary Griffin's Dramatic Production and Claudia Myers' Screenplay courses still influence my work. Gary has an exercise that connects a personal story with other classmates' stories and together, the combination of those stories creates a new work. I use this technique all the time in my own work, taking the nugget of something that has affected me strongly and exploding it, often incorporating fantastic elements and mythic or genre aspects into the finished product. Claudia's emphasis on structure helps to keep this impressionistic process moving forward narratively; holding onto the spine of the story allows me to either fold in or reject new ideas.

You can see this combination with my film Five Points and my upcoming web series 36F. Five Points is a comedy about the revenge of the roadkill, but the core of it is actually a personal tragedy: my uncle was killed by a car while riding his bike, and the driver suffered very few legal consequences. While the end product bears no resemblance to this story, the kernel is very dark.

I also had an independent study with Brigid Maher where I was able to plan and extensively storyboard an earlier version of Five Points, which was enormously helpful during production.

Q: What course helped prepare you to make a living through following your passion?

AC: Randall Blair's producing class has been incredibly helpful, both in terms of organizing my own projects to attract funding and to make a living as a filmmaker.

Q: What advice do you have for current students at SOC?

AC: Look around at your classmates and colleagues; see who you communicate with best, because you will continue to be champions of each other's work over the years. Do your best to be kind, helpful, and efficient, because people have long memories and no one really wants to be around mean people after twelve hours on set. Learn the fundamentals of fundraising and practice your networking skills. For the majority, making a living in the film industry and making your own films are not always one in the same, at least not at the beginning of your career, so get really good at a hard skill like editing, camera or being a first AD.

Q: Why did you choose SOC?

AC: I was drawn to SOC's film program because of the focus on documentary as well as by the FAMU-Prague program, as I've always felt a strong pull towards social justice issues as well as an encompassing love of fiction film. I didn't feel that I would get that kind of combination at any other film school, and I quickly found a group of friends and colleagues who had the same kind of bone-deep drive to make things that I did.

Q: Tell us about your current professional work.

AC: I'm currently fundraising for a documentary company called Diva Communications, which focuses on documentaries about the religious experience. I just finished a grant to the National Endowment for the Humanities for a new documentary about historic and current ghettoes called In the Ghetto of the Garden. As a freelancer, I've worked as a production assistant for commercials, a pilot for Nickelodeon, a feature film, and as an associate producer for various documentary work.

My new year's resolutions are to make 36F, at least one music video, have lunch with five producers I don't know very well, and shadow a TV director.