Education
The American University Gap Program: A Launchpad for College and Lifelong Success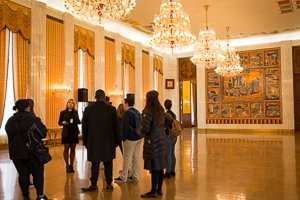 The option to take a gap year or a gap semester has become increasingly more appealing to high schoolers and their families. Take 17-year-old Parkland shooting survivor and March for our Lives activist David Hogg for example. Or, Malia Obama just one year ago. Now, more than ever, students are looking for opportunities to jump ahead of the curve and invest in a long-term journey of personal and professional growth.
As one Washington Post article describes, taking a Gap Year is "an investment in the whole person" -- an important pre-college bridge that "allows kids to develop the maturity, independence, and self-reliance necessary to make the most of a college education."
The American University GAP program is centered on this very notion. It provides students with semester- or year-long options to intern in DC while taking intensive seminar classes in American Politics, International Affairs, or Global Business. With its one-on-one internship coaching and its expert university staff offering support along the way, students experience the intimacy of a small private research university while receiving crucial professional skill sets that they will carry with them throughout their lives. By design, the AU Gap Program allows young students to gain professional experience and live in a unique environment within a schedule that traditional university settings would not normally allow.
Studies show that the benefits of one semester or one year outside of a traditional academic track are both intersectional and lifelong. According to studies curated by the Gap Year Association, 88% of participants report that their GAP program had significantly added to their employability after college. And according to a study on "The Characteristics of Gap Year Students and their Tertiary Academic Outcomes," Gap Year students are perceived to be 'more mature, more self-reliant and independent' than non-gap year students.
"The dream to one day be...a media specialist is being realized earlier than I ever conceived possible," writes Nicholas Massenburg-Abraham in a student blog about his marketing and social media internship at the National Press Club. "My hopes for self-discovery and personal actualization are already becoming....more of a reality."
Our alumni are living examples of the kind of growth opportunities that occur while living, learning, and interning at institutions throughout the nation's capital. Isabelle Moshiri-Elwood, a Spring 2018 alumna, interned at the El-Hibri Foundation where she worked with non-profit professionals to offer grants to organization that built inclusive Muslim communities in the DC area.
"One of the most exciting parts of my internship has been working on the trainings that [the El-Hibri Foundation] offers their grantees. I spoke to employees at think tanks, respected imams, and even a former diplomat! Over time, I've developed a profound appreciation for the work they and other nonprofits like them do," explains Moshiri-Elwood.
This Spring semester, Isabelle was among a cohort of 10 students. In that intimate classroom setting, she developed close relationships with both classmates and professors. They also met face-to-face with diplomats from Russia and Turkey, cybersecurity experts at the Department of Homeland Security, private tours of the United States Institute of Peace, and more.
A typical Gap experience includes nonprofit organizations, government agencies, and businesses to speak with local, national, and global industry experts. All of this is in conjunction with one-on-one support in developing a resume and cover letter while cultivating interview & networking skills far ahead of their peers.
"[While in the GAP Program], I've done some surveying of my own, visiting historic Georgetown and a talk led by Jeb Bush at the American Enterprise Institute," writes Nicholas again. "As a liberal, the latter was a fascinating cross-ideological discussion of school choice in the face of an ever increasingly automated technological society. I feel right at home in DC's political arena."
When considering a Gap Program, it's important to consider the lifelong benefits and the irreplaceable opportunities offered by the program's components. At American University, we pride ourselves in our tough-to-beat location in the nation's capital as well as our emphasis at the School of Professional & Extended Studies in award-winning experiential education. At SPExS we make the streets of Washington DC our helm of career preparedness and personal growth.