Alumni
WSP Internship Creates a New Career Path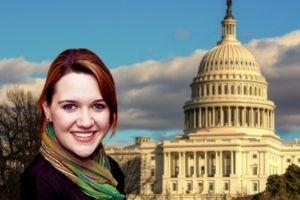 Coming from a small college town in Wisconsin to the nation's capital taught me a lot about myself and what I wanted to do with my life. I thought I wanted to work for the Department of Interior or Commerce or work my way up to Congressional Chief of Staff -- I never expected that'd my dream job would actually be coordinating member communications for a national business league. One of the best lessons I learned through the Washington Semester Program is to be open to every opportunity that may present itself, even if it's off your "path."
My Washington Semester was the first of many steps in my professional development. My home school, St. Norbert College, is infamous among students and alumni for its "bubble" -- WSP popped that bubble and bridged the gap between my coursework and my career. I interned for my Member of Congress, which was an eye-opening experience – especially in the fall of 2009, when the House was debating the Affordable Care Act. Being a part of the process and seeing the procedure from the inside was more instructive than anything I could have learned in a textbook. It was amazing to be able to interact with constituents in the office and on the phone. I was so grateful for the experience knowing that I was serving the community I'd grown up in.
The Washington Semester Program internship experience put everything I learned in class into practice. Instead of watching the passage of the Affordable Care Act on C-SPAN or reading about it in the paper, I was in the House Gallery watching it happen. Having that first-hand knowledge is essential to understanding why DC works the way it does.
I loved the variety of speakers and site visits. American Politics is about so much more than just the Legislative, Executive and Judicial branches. Washington, D.C. is a complex web of elected officials, agencies, consultants and non-profits working to further their individual visions for the nation and the American Politics unit really reflected that.
I fell in love with the city when I did my Washington Semester Program experience -- the history, the culture, and even the last few humid days of summer that I got to experience in September. Once the program was finished, I knew I needed to return to the city and was determined to build the foundation for a great career in D.C. Through the connections I made during the Washington Semester, I discovered a paid internship program and had a job waiting for me in D.C. once I graduated. Four years later, I still haven't left.
Edited by Nicole Howard