Student Life
Orientation: What to Expect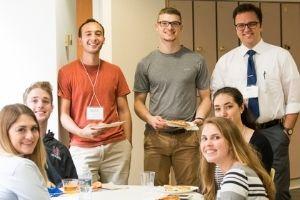 Countless opportunities await students when they come to American University. The newest cohort of Washington Semester Program students is no different. Before our Welcome Orientation, we wanted to bring students up to speed on what they might expect.
Here are a few things that new WSP students ought to know before coming to campus:
1. You're Joining the AU Community
In addition to the tight-knit cohort of students from 38 different states and three countries, WSP's Summer 2017 interns will join a community of more than 6,000 undergraduate and 5,000 graduate students at American University. WSP students joining the AU community will have access to the same incredible resources that full-time AU students have. While attending the "Life at AU" information session, students are sure to find out what being an Eagle is all about.
2. You'll Meet Your Professors
Our professors are at the top of their fields, and WSP students will combine intensive internship experiences with rigorous academic coursework. During orientation, students will have their first meetings with faculty and make a lasting connection early on. The session on "Professional Development in DC," will set students off on the right foot.
3. You'll Have a Warm Welcome
Seasoned faculty from the School of Professional & Extended Studies are coming together to formally welcome the new WSP cohort. Students will hear an engaging address from Dean Carola Weil, in addition to welcoming remarks by Sr. Associate Dean Diane Lowenthal, Assistant Dean Donna Chapman Williams, and Assistant Dean Donelle Broskow. Heather Broberg, the Associate Director of Recruitment and Admissions, will join the staff in leading an exciting ice-breaker and team-building activity.
4. We'll Prepare You for the Thrill of Living in DC
Washington, DC is a thriving metropolis that hosts countless international organizations and political powerhouses. The "Intro to DC" session hosted by Student Services Coordinator Amy Pipher, the "Making the Most out of your Summer Internship" session hosted by Associate Director of Internships & Service Learning Programs Amy Morrill Bijeau, and the "Safety on and Off Campus" session hosted by AU Campus Security will expose students to the ins and outs of navigating the city.
5. Also, Pizza and Networking
We like to finish strong. After powering through this day-long welcome, students can look forward to socializing and networking with their new cohort over delicious pizza.
However, the real magic of DC and our 70-year-old semester program is that it leaves our students with a thriving network of global contacts, valuable work experience, enhanced leadership skills, and a rock-solid foundation to support their future career. We call the Washington Semester Program "Your Passport to Your Future" for a reason. No matter what you aspire to do in your academic and professional careers, participating in WSP is a powerful launchpad from which to begin your journey. Part of the School of Professional & Extended Studies, the Washington Semester Program prides itself in empowering future generations of leaders, and we look forward to supporting you every step of the way.
Welcome to AU!