Alumni
WSP Gave Me Countless Opportunities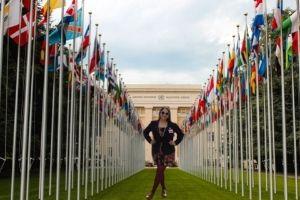 First Generation American, Jasmine Hernandez, interned at the Embassy of Mexico during her time in the Washington Semester Program's International Law and Organizations track to learn firsthand about the current events in the country her family calls home. She wanted to learn about the experiences she won't see in the US news reports. Read more about her semester at American University.

The Washington Semester Program at American University provides the perfect combination of facilitation in learning without completely spoon feeding students. Instead, students get to explore, and this introduces them to what it's like to live in the busy real world that is D.C.

I'm a city girl and I fell in love with Washington, D.C. this Spring semester. American University's Northwest, D.C. location was a nice environment to go running in the evening and not be crowded by tourists. I liked that we weren't so close to downtown because it encourages you to explore the city by taking the bus or the Metro to the White House or the Hill. I had the transportation system figured out within my first week!

What I enjoyed most about my classes is that I could take what I learned inside the classroom and apply that information to my internship. After studying human rights in international law in our seminars, it was easier for me to undertake leading a human rights campaign at my internship informing embassy workers on current human rights issues. My internship at the Embassy of Mexico provided me with the opportunity to improve my Spanish language skills. It taught me to work under pressure. I've learned to ask questions and have become confident in my professional skills. The best part of the internship was translating for English-speaking representatives during press conferences and attending a meeting for the Council of the Americas.

The opportunities that I had in the Washington Semester Program are countless. I've always aspired to be a Supreme Court Justice so visiting the Supreme Court and having a briefing inside the hearing room is an experience I will treasure. Our class also went to New York City and got a tour of the United Nations Headquarters.

The Washington Semester Program has helped me become more confident in what I'm capable of academically. I met with many different organizations and their representatives. I interviewed someone from the World Trade Organization and the United Nations Development Program. There were many unique resources at my disposal. I even used the Library of Congress to do research. Before this program, I never would have dreamed of writing a 30 page research paper but with the help of my amazing professors I wrote a 30 page research paper and a 20 page research project.

After this semester, I've developed a new idea for a career path. I'm considering working or applying for a one year research program abroad instead of going straight into law school. I'm excited to see where the knowledge and skills I gained from the Washington Semester Program will take me. I learned so much and gained confidence in what I can accomplish.