Alumni
Leveling Up: Three Alumni Discuss the Power of Executive Coaching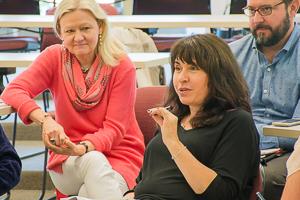 For the first time this year, American University's School of Professional & Extended Studies has opened up a summer cohort for its Leadership Coaching for Organizational Performance Program, with classes beginning in late May.
Looking back at six Fall and Spring sessions of this ICF-accredited program, there is a lot to account for: faculty excellence through the School's unique partnership with Heidrick & Struggles, intimate and diverse cohort-sized classes, and a hands-on approach to the executive coaching craft. With applications closing soon, three program alumni have much to say about how LCOP enriched and deepened their skill sets to remain competitive in the field.
"One of my philosophies is that growth begins where your comfort zone ends, and they did a good job of keeping people at their growth edge," says Craig Culp, a Fall 2017 alum who has been coaching since 2010.
He actively sought out a program to fill in any gaps in his knowledge as he navigated the industry, eventually landing on American University due to its unique combination of online and in-person class sessions.
Since then, Culp has gone on to serve as an executive coach to a number of clients, including the National Institute of Health, the Koch Internship Program, and Teach for America.
"I don't think you're ever finished learning, so, for any professional in the coaching field, this would be a good program," he says.
Spring 2018 alumna, Patti Yoder, can attest to the same. Because of the program, she was equipped to become certified under the International Coaching Federation and acquired 100 hours of coaching exposure during the program. The combination of scenario-based classroom learning, weekly conference calls that touched on industry best-practices, and a digital archive of career resources is what helped deepen her competency.
Since graduating, Yoder has had the chance to apply her coaching formally within her role as the Director of Human Resources for a professional consulting firm.
"What I wanted to do was explore my current role and really have a quality competency. I wanted to do more [coaching] in a deeper, experiential way. This made me more of a pro than an amateur," she says.
The Summer 2019 cohort begins May 29th, where intimate-sized classes meet in-person once a month for two- or three-day blocks. With classes that range from 16 to 25, every student is given an opportunity to gain a hands-on and well-rounded education. Program alumni hail from a wide range of institutions, including the Department of Defense, The Ritz-Carlton, Capital One Financial Corp, IBM, Booz Allen Hamilton, and others.
"We still continue to meet monthly," says Carole Dickert-Scherr, the Director of HR for PBS when discussing how she has kept in touch with fellow classmates years after the program. "For a learning environment, it's so important that it's diverse."
Through this diversity of knowledge and skills, Dickert-Scherr was able to enhance how she relates to people in ways that benefit her future executive coaching clients. For many in the program, it wasn't only a chance to acquire important hard skills. It was also a chance to become a better, more empathetic person overall.
"This program has given me more more of a sense of ways to really engage deeply with other people and to listen. At this point in my life, I've benefited from having a good career, and this enabled me to enrich it in new ways," she says. "Especially as I begin this next chapter of my life."