Alumni
For Human Resources Professionals, American University has Launched Several Career-Advancing Initiatives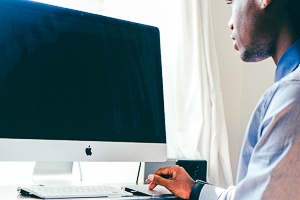 American University's School of Professional & Extended Studies has initiated a milestone partnership agreement with the Society for Human Resource Management (SHRM) to offer two expert-driven online professional certificate courses: a 5-week online program on Essentials of Human Resources and the Learning Certification Preparation for the SHRM-CP and SHRM-SCP exam launching in February 2018.
SHRM is the premier professional association for HR professionals both nationally and internationally, and such a partnership marks the start of an important relationship where professionals seeking to advance their careers will continue to receive instruction to critical industry skillsets. This partnership happened in part due to the School launching an online Master's of Science in Human Resource Analytics and Management (HRAM) as well as a 12-credit graduate certificate of the same name, which integrates technology with key HR functions such as Talent Management.
"HR and graduate education and training for HR professionals has changed dramatically over the years," says Dr. Robert D. Stokes, Graduate Program Director of the graduate program in Human Resource Analytics and Management (HRAM) program at AU. "The recent key competencies identified by the Society of Human Resource Management (SHRM) include critical evaluation, business acumen, and consultation. The technology advances are increasing and need to be embraced, but the data, information, and knowledge technology provides and translates into actions is more critical."
At the launch of GPOL in 2015, the School's chief focus was on "creating online graduate degree programs geared towards mid-career professionals in some of the fastest growing industries in the US," explains Stephanie Bookstein, the Assistant Dean for Online Learning for SPExS Graduate and Online Learning Programs. The School went on to carefully develop their programs "with students at the center of our minds. We gathered executives from top ranked organizations in each field to form advisory councils...We believe that with this approach we are creating unique graduate programs that directly address the needs of these fast growing industries, which will allow our students to succeed and advance in their careers."
With these three new initiatives, the School of Professional & Extended Studies is poised to become an active center for human resource professionals to advance their careers and for professionals wanting to enter this growing field. Indeed, the cornerstone of SPExS' Graduate Professional Online Learning program is to offer practical degrees that are designed for working professionals to feel contemporary in the wake of modern technological evolutions in the market.
"I always say to the students - technology for technology's sake is not interesting, but the opportunities that we have around digital technology to make education more accessible...redefines how we look at what a classroom," says Jill Klein, GPOL's Interim Associate Dean.
At the heart of every GPOL program, including the HR Management initiative, is a connection to an advisory council of industry experts who bring their experience and networks to guide a hands-on academic curriculum. Additionally, each GPOL program has a set of core competencies that are catered to industry needs, with experts in each field developing and teaching the courses to students.
"Professional development and subject matter expertise...are the two pieces that we marry in a single package," explains Jill Klein. "We hope to become a destination for that in and among early and mid-career professionals and that hiring organizations recognize that too."