In the Community
From Online to In-Person: Inaugural Immersion Experience Offers Community and Connection to Digital Learners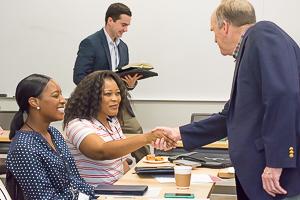 American University has many successful online programs, but now for the first time, students can actually experience the campus and Washington, DC in person. Students participating in Graduate Professional Studies programs at the School of Professional and Extended Studies (SPExS) did just that by attending its inaugural Graduate Student Immersion Experience on June 22 – 23. With faculty and staff, students attended special events on campus and had a private tour Special Olympics Headquarters International in downtown Washington, DC. Welcomed by Jill Klein, Interim Dean of the School of Professional & Extended Studies, the students gained a firm grasp of our mission to offer all our students cutting-edge education and opportunities to apply their skills to the real world. They also heard about "Innovation and Data Analytics for the Modern Professional," presented by Dr. Shyam Chidamber (Kogod School of Business). They toured the beautiful AU campus (and its arboretum) and learned about AU's Sustainability initiatives since becoming the first school in the country to reach total carbon neutrality.
Students gained insights on how the Special Olympics uses metrics and analytics to better understand the impact of their efforts on athletes, their families, and their communities. Students also sharpened their leadership development plans through an engaging presentation by Chris Brookfield, a faculty member of the Leadership Coaching for Organizational Performance program and principal of Heidrick and Struggles.
"This experience was a great way to engage online students. The interaction with staff and peers along with the exploration of campus was very welcoming and fulfilling. The speakers went over relevant information that was fitting for the audience," noted one of my Human Resources Management students, Charnelle Huggins.