Alumni
Capstone Feature: Using Measurement & Evaluation to Improve Communities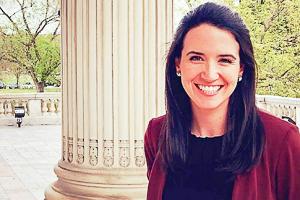 At the end of the Masters degree program in Measurement & Evaluation, students are given the unique opportunity to partake in a capstone project that directly exercises the skills they've acquired. Jillian Klarman, a Financial Assistant at the World Bank and a rising measurement & evaluation professional in the international development sector, chose to directly apply her newfound knowledge to the sector and community that means the most to her.
"I've always loved working with people from other cultures and learning from them. Being able to help other people is my main goal."
For Jillian's capstone project, she worked with an international organization called Young Professionals in Foreign Policy (YPFP) to develop a comprehensive monitoring and evaluation plan to help elevate the programs they house globally. Jillian noticed that there wasn't a way for all of the YPFP branches around the globe to have access to central information, so she recommended several cloud-based qualitative and quantitative systems that would help the organization identify growth indicators and provide data reporting services.
"I included a systems map, which identifies the connections among the various elements of the organization as well as gaps; a program theory of change; a logic model; technology recommendations; as well as tools and recommendations for implementing the plan."
Although Jillian had no prior professional experience with evaluating an organization before participating in the program, it ultimately "ended up being a great experience, and I think the plan I made for them will help them improve their efficiency - hopefully making a better impact [for their stakeholders]," she explains.
Indeed, Jillian understood that the main goal of her evaluation of FYPF was for it to work practically for internal purposes to improve efficiency and understand effective ways they can be more accountable to current and future funders.
Before participating in the Masters in Measurement & Evaluation, Jillian worked for several small nonprofits in the international development sector, including one in which she managed the volunteer program for a community development organization focused on education, environment, and health initiatives in Nicaragua. She knew that gaining new and important skills would only help further her personal mission.