Office of the Provost
4400 Massachusetts Avenue NW
Washington
,
DC
20016
United States

Dear colleagues,
A quick note to follow up on my earlier note with information from University Police about last night's incident. As you know, the incident is being investigated by University Police, and video evidence shows the perpetrator(s) coming onto campus and hanging the posters on bulletin boards in at least four buildings, among other locations, on campus. Police welcome any information that will lead to identification of the individual pictured below. Please contact University Police at 202-885-2527. Here is the incident description from University Police:
"INCIDENT DESCRIPTION
At approximately 10:00 PM on 9/26/2017, the University Police was alerted to the placement of a flyer depicting the confederate flag, had been placed in a classroom in the Mary Graydon Center. Attached to the poster was a cotton plant. It was determined through a canvass of campus, that additional posters had been placed at various locations on campus.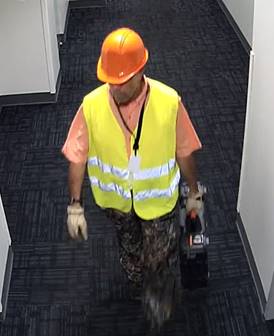 The male shown in this alert is currently a suspect in this incident. He is believed to be a white male, approximately 40 years of age. He is believed to be approximately 5'10"tall. He was last seen wearing a pink shirt, an orange hard hat, camouflage pants, and off- white gloves.
Individuals with information regarding his identity or whereabouts are encouraged to immediately contact the American University Police at (202) 885-2527 or submit an online tip at http://www.american.edu/finance/publicsafety/tips.cfm"
Please join us at the Kay Spiritual Center at 1 p.m., as we gather to talk about what happened, what steps are being taken, and hear from each other. As President Burwell stated in her note this morning: "I ask you to join me in standing together and show that we will not be intimidated. AU will respond strongly to attempts designed to harm and create fear. Instead, we will recommit to creating a community that does not stand by."
As always, thank you for all of the support that you have provided, and are continuing to provide, to our students at this time. It would be very helpful if you could share information on campus resources with our students as you see fit. These include:
the Counseling Center (Mary Graydon Center room 214; 885-3500);
Dean of Students Office (DeanofStudents@american.edu; 885-3300);
and Kay Spiritual Life Center (202.885.3320; hours: Mon-Fri: 9am-9pm).
With very best regards,
Mary

Dear colleagues,
I am very sorry to be writing to share with you that there were at least ten confederate flag posters with cotton attached posted on campus last night in MGC, McKinley, and Battelle. This coincided with Professor Ibram Kendi's presentation of a "Vision for Equality," and introduction to the Anti-Racist Research and Policy Center. We are investigating this racist incident now, and I wanted to be sure to alert you to it.
Below, please find Vice President for Campus Life Fanta Aw's statement from last night upon the discovery of the posters:


This evening, ten confederate flag posters with cotton attached to them were reported in three locations on campus - Battelle, McKinley and Mary Graydon Center. AU Police and the Office of Campus Life are investigating and we will notify the community when more information is known.
We are well aware this act occurred the same evening Dr. Ibram Kendi presented "A Vision for Equality," an introduction to the Antiracist Research and Policy Center. AU is committed to the vision of the Center and Dr. Kendi's work and we will not be deterred by this cowardly attempt at intimidation. If you have any information about this incident, please contact Public Safety at 202-885-2527.
I will share further information with you as it is learned. We stand united against racism on our campus.
With best regards,
Mary