Faculty Success Story
Cheh: Getting the chemistry right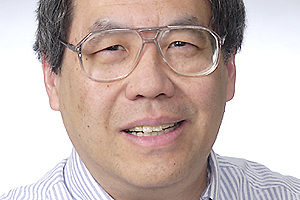 Albert Cheh has a way of inspiring students about science—even lit majors whose palms get sweaty at the thought of donning a lab coat.
"As children we all have curiosity about the natural world," he says. "But people get turned off to science somewhere along the way."
Cheh, a professor in the Department of Environmental Science, was honored for Outstanding Teaching in the General Education Program in 2004. And for good reason.
"You must talk about subjects that are important to students, that they can relate to," he says.
The human genome class he created and teaches makes that task easy. Advances in genomic research are news every day, changing our views of disease, medical treatments, and ourselves as a species.
Take the rice plant, for example. Chosen as a subject for gene sequencing because of its assumed simplicity, it turns out to have 40,000 genes. Humans, by contrast, have fewer than 30,000.
"This was a tremendous blow to the human ego," says Cheh.
Cheh's own research focuses on how the carcinogenic components of cigarette smoke damage DNA and initiate mutations and carcinogenesis, and he has published his findings in prestigious journals, such as the Journal of Biological Chemistry.
Science majors, of course, benefit from Cheh's research experience and expertise as much as anxious Chaucer specialists do.
"I thought I was most interested in chemistry, but Professor Cheh's approach brought me into biochemistry when he synthesized the biological, chemical, and social aspects of human genome research," says Carey Myers of New Jersey, a biochemistry major and Fulbright grant winner who plans to pursue a combined MD-PhD program.