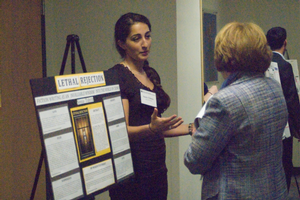 Students presenting their work at conferences may apply for funds to partially defray the costs of registration and travel. The amounts awarded are:
$300 for regional conferences
$500 for national conferences
$800 for international conferences

When to apply:
Applications may be submitted as early as six months in advance of the conference and as late as two weeks before. The conference dates determine the period for which the application will be considered. Funds are distributed on a first-come, first-served basis across these periods;
Spring: January 16 – April 30
Summer: May 1 – August 5
Fall: October 15 – January 15

Requirements and Restrictions: 
Applicants must be full-time students pursuing an undergraduate degree and must have a minimum cumulative GPA of 3.5. Funding cannot be granted for travel and presentations given after officially graduating from the university. Only one award can be received per academic year. If applying for summer travel, the student must be registered for classes at AU in the coming fall. 
Where to Apply:
Undergraduate Research Travel Grant Application

For more information, please email undergradstudies@american.edu