Research
AU Reaches Historic Milestone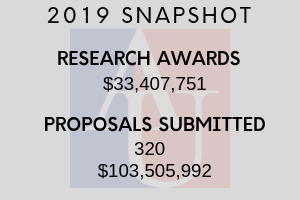 For the second year in a row, the number of AU sponsored research awards and modifications have increased. In FY 2019, AU received over $33 million in externally funded grants and contracts. It is the largest amount of external support ever received in the university's history. AU received approximately 76% of funding from non-federal sponsors and approximately 24% from federal agencies.
The increase in funding demonstrates AU's commitment to catalyze the growth of external research funding and improving the research infrastructure as indicated in the five-year strategic plan. Moreover, it enhances AU's reputation of producing innovative and impactful research creating changemakers for a changing world. 
"Our continued growth in sponsored research demonstrates how AU faculty, staff, and students are esteemed by major funders around the globe. Beyond the numbers, this represents the high value of AU's contributions to changemaking and important discoveries in our society." AU's Interim Vice Provost of Research, Sarah Irvine Belson.