Research
Seeking Justice through Research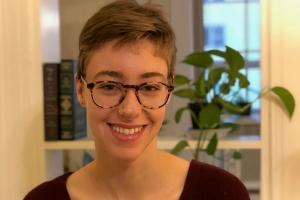 Casey Chiappetta is one of the most accomplished researchers at the master's level at American University. In May, she will receive her Master of Science in Justice, Law and Criminology at the School of Public Affairs. In addition to rigorous course work, she also conducts research around access to civil justice at the Justice in Government Project, an initiative in the Justice Programs Office at American University. Casey's work has appeared in Family Court Review, MIE Journal, Disability & Society, among others.
Casey's interest in research and social justice started at a young age. As a child to a disabled mom, Casey spent many days in and out of the hospital with her family and watched her mom fight for equal treatment. "My upbringing has framed my current research: growing up with access to opportunities combined with family challenges makes me particularly attuned to the often-shifting dynamics of power," she says. Now, she studies access to justice, which she says "often serves as a proxy for access to other opportunities," guiding her research on substance use disorders, disability, meaningful work, and civil legal aid.
Casey began her research journey at American University with Professor Robert Johnson from the Justice, Law & Criminology department during the second year of her undergraduate studies. Casey's final paper on social identity theory and justification of harm in prisons stood out as publishable. Casey and Prof. Johnson revised the paper and it was accepted in its first form to an international peer-reviewed journal . She has also co-authored papers with Karen Lash, the Director of the Justice in Government Project and former Executive Director of the White House Legal Aid Interagency Roundtable, and Prof. Ernesto Castañeda from the Sociology department, who she calls "unparalleled mentors" in her research career.
"While I am working on several projects at the moment, I am most excited about my research on how civil legal aid can tap federal funds to support partnerships with schools, bar associations, courts, and hospitals to improve the lives of those affected by substance use disorders (SUDs)" Casey states. With Ms. Lash, this article presents how legal aid can support recovery from an opioid-related abuse disorder and protect families from abuse related to drug use. For this purpose, they discuss how policymakers and legal aid organizations have already used federally-appropriated funds to help better the lives of those affected by opioids. Their research was deemed so important, the journal in which they are published, the MIE Journal, framed a special issue around their article. Read the article here.
Upon graduation, Casey will continue her research and policy career at the National Legal Aid & Defender Association as their Senior Program Associate in the Civil Justice Initiative. She has plans to pursue a JD or a JD-PhD in the future.