As a student, the city is your campus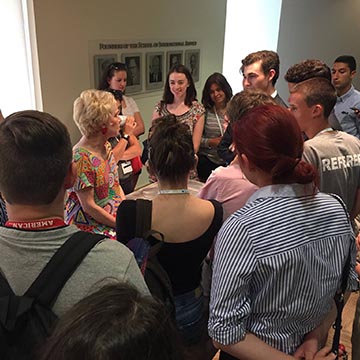 Image info
The program includes a number of briefings at U.S. government and international agencies. Last summer, students heard from speakers at the U.S. Department of State, World Bank, the embassies of Saudi Arabia and the Netherlands, and the United States Institute of Peace.
During the program, students will have the opportunity to hear from guest speakers, including diplomats and U.S. government officials, on a host of issues regarding international affairs. Students are encouraged to ask questions and learn first-hand from these experts in the field.
On several afternoons, students will attend skills-building workshops, including a conflict resolution session given by a highly regarded AU faculty member.  Other workshops include a panel of AU alumni discussing careers in international relations, a session on resume-writing given by AU's Career Center, and a talk on the college admissions process given by representatives from AU's Admissions.
Students will have free time to enjoy campus life, whether working out at the fitness center or relaxing on the quad or at one of AU's cafes. Structured evening activities will include an opening barbecue, an evening monument tour, a "Capitol Steps" performance at the Ronald Reagan Building, and "International Night—an on-campus event with food and festivities from around the world. In addition, chaperone-led trips to the Smithsonian museums, Georgetown, and the National Zoo will be organized for the weekend.
Dormitory housing is available for the campus segment of the program. Students will be housed in air-conditioned doubles or triples in a centrally located dormitory on AU's beautiful northwest Washington, DC, campus. All linens—sheets, blankets, and a towel— will be provided. AU upperclassmen, as well as a senior resident advisor, will live in the dormitories and serve as mentors throughout the program. The front desk of the dormitory is staffed 24-hours a day, seven days a week. The front doors of the dormitory are kept locked at all times; students swipe their AU student ID cards every time they enter. Wi-Fi is available in the dorms and students are encouraged to bring laptops if they own them; however campus computers are available to students in the library.
Meals are served in the Terrace Dining Room (TDR) in the Mary Graydon Center. The hours of operation are the following: Breakfast (7 - 9 am), Lunch (11 a.m. - 2 p.m.), and Dinner (5 - 7:30 p.m.). Funds, called "EagleBucks," will be added to students' ID cards to be used at TDR or other campus eating establishments (Mega Bytes, Eagles Nest, Mud Box, and Davenport Cafe). EagleBucks are also accepted at a few close-by eating places—Chipotle, Z-Burger, and Whole Foods.