Alumni Profile
David Hardison, SIS/MA '12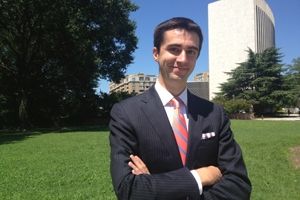 How has SIS made a difference in my world?
SIS has equipped me with practical knowledge of the various aspects of the foreign policy process – such as development, funding, and implementation – and all the wrangling that occurs between each step. While I think substance is more importance than process, it's nonetheless a part of the job that I have to deal with, and I feel that I entered the workforce with a strong knowledge of this matter. Without understanding how the various facets of the process operate and interact, it's hard to get ahead of the game and prioritize the actions that you take when running programs or developing policies.
Why I chose SIS?
Its location in Washington, its top-10 ranking and membership in APSIA, and the USFP program curriculum's emphasis on the blend of theory and practice.
How I make a difference in the world?
I work as a conventional weapons destruction program manager at the U.S. Department of State, where I run projects to clear post-conflict areas of explosive remnants of war, such as landmines and unexploded ordnance. It is important work that elicits tangible positive results: for example, farmers can once again till fields and development projects can provide badly-needed infrastructure to people in need once explosive remnants of war are cleared. It's so fulfilling to see the results of my work when tasks are completed. I'm fortunate enough to have two portfolios that cover very different and incredibly interesting parts of the world: the Balkans, and East Asia and the Pacific.
Field of study?
U.S. Foreign Policy, with a concentration in diplomacy. My SRP examined Turkish-American relations in light of the Arab Spring.
SIS activities?
While I was a student at SIS, I led a German conversation group. Initially, this was just to help out friends who were gearing up for their Tool of Research exams, but we all found it to be fun and so kept it running for an entire semester. I also played intramural soccer to varying degrees of success. Languages? Native English, fluent German, proficient Spanish.
World issues of interest?
Conventional arms control, humanitarian assistance and counter-terrorism.
Professional role model?
My grandfather, the hardest-working person I've ever known. After serving in the China-Burma-India theater of World War II, he taught vocational agriculture at a high school, and went on to become principal. He's seen and done so much in his life that he's able to give me advice on any problem I've ever encountered. I also look up to my grandfather for his incisive wit and sharp-dressing ways.
Favorite book?
"World War Z" by Max Brooks. 
Favorite movie?
"O Brother, Where Art Thou?" 
Current residence?
Washington, DC