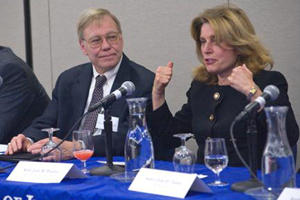 Enhance Your Career with SIS
Living all around the world, the over 20,000 alumni of SIS excel in virtually every career. Many find their way to government agencies, such as the Department of State, the Department of Defense, and the Environmental Protection Agency. Others elect to serve internationally for relief agencies or found their own non-profits. Still others are artists, ambassadors, authors, photographers, playwrights, lawyers, economists, business owners, members of Congress, and scholars—to name a few. Regardless of their chosen field, many alumni cite the connections they forged through SIS as valuable resources for their career development.
Join Us
Attend an upcoming SIS or AU networking event. Visit the events calendar for details on activities in your area.
AU Career Center
The AU Career Center offers lifetime career counseling services to all AU alumni. Recent graduates are entitled to all the benefits of current students and alumni who graduated more than one year ago can take advantage of many other resources offered by the Center.
Please consider current SIS and AU students when your workplace is looking for interns. Send internship information to Career Advisor John Charles, charles@american.edu, or, visit the Career Center online.
Online
The SIS alumni e-newsletter often contains domestic and international job postings. To subscribe, e-mail sisalum@american.edu.
Join the SIS professional group on LinkedIn.