Contact Us
SIS Alumni Relations and Development
4400 Massachusetts Avenue, NW
Washington, DC 20016-8143
Stephanie Block
Associate Director of Alumni Relations
block@american.edu
202.885.1616
Students and alumni are welcome to make an appointment with the SIS Office of Alumni Relations to learn more about how to take advantage of their AU SIS Alumni Network. Make your appointment today!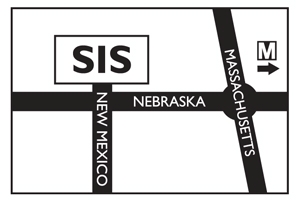 Don't be a stranger. AU is your home, always. So, before you plan your visit back to campus, be sure to let us know. We can schedule you a tour of the new SIS building and then meet you for a cup of coffee at the Davenport Lounge.
Mark your calendars for this year's All-American Weekend – October 16-18, 2015.