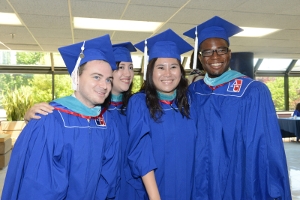 American University is home to international students from over 100 countries. The School of International Service (SIS) in particular has a long-standing history of welcoming international students and scholars through its door since 1957, when the School was founded upon President Eisenhower's vision of "waging peace" and incorporating human-focused international affairs into higher education. Today, SIS' international students and scholars hail from over 150 countries, and SIS alumni, spread across the globe, in positions of leadership and service. 
Sources of Funding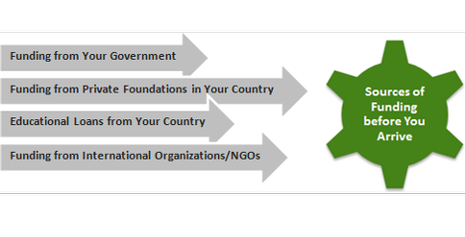 Funding from Your Government Examples
The Bahamas
The All Bahamas Merit Scholarship is awarded annually to a candidate from the Commonwealth of the Bahamas. The scholarship is given for four years tenable at accredited universities or colleges in the Caribbean, United States of America, United Kingdom or Canada. The award includes Tuition fees, room and board, one round trip ticket, clothing and a personal and book allowance. The total award is not to exceed $25,000.00 per annum. Visit the Ministry of Bahamas website for more information.  

The Education Guarantee Fund is awarded to students pursuing a course of study at the College of The Bahamas or colleges and universities abroad. Visit the Ministry of Bahamas website for more information.
Chile
Becas Chile, scholarship program offered by the Ministry of Education for graduate studies overseas.Click here to read more.
Programa de Formación de Capital Humano Avanzado, offered by Comisión Nacional de Investigación Científica y Tecnológica (CONICYT), provides scholarships for graduate students locally and abroad. Click here to read more.
La Beca IFP Región Andina y Cono Sur, offered by Fundación EQUITAS, provides scholarships for graduate study to under-represented students both locally and abroad. Click here to read more.
China
China Scholarship Council(CSC)provides government scholarships for studies overseas. Click here to read more.
Ecuador
Becas-Senescyt – government scholarship program offering funding for graduate studies overseas. Click here to read more.

El Salvador
The FANTEL Scholarships for Higher Education program provides grants for individuals from El Salvador to pursue undergraduate or graduate level studies in universities around the world. Sponsored by the Ministry of Education of El Salvador, this program is jointly administered by the Fundación para la Educación Integral Salvadoreña (FEDISAL), and LASPAU. Click here to read more.
Indonesia
The Indonesia Directorate General of Higher Education (DIKTI) offers scholarships to eligible individuals pursuing graduate programs overseas. Click here to read more.
Mexico
The National Science and Technology Council (CONACYT): Becas para Estudios de Posgrado offers scholarships to Mexican professional for graduate studies in sciences, technology, social sciences and humanities abroad. Preference is given to doctoral studies. Click here to read more.
Panama
The Instituto para la Formación y Aprovechamiento de Recursos Humanos (IFARHU) offers loans and scholarships to Panamanian students and professionals for higher education studies in Panama and abroad. For more information please visit the IFARHU website.
Peru
The National Council for Science and Technology (CONCYTEC): Fondo Nacional de Desarollo Cientifico, Tecnologico y de Innovacion Tecnologica (FONDECYT) program offers scholarships for graduate studies abroad. For more information please visit the FONDECYT website .

The Oficina de Becas y Credito Educativo (OBEC): Ministerio de Educacion program offers government loans and scholarships for studies abroad. For more information please visit the OBEC website.

Thailand
The Royal Thai Government awards scholarships every year to outstanding individuals for their undergraduate and graduate studies overseas. SIS is home to many Royal Thai Scholars. Click here to read more.
Turkey
Scholarships from various government ministries such as the Ministry of Education and the Ministry of Foreign Affairs. Please check directly with the ministries. 
Vietnam
The Ministry of Education and Training of Vietnam (MOET) [SIS Partner]offers VIED fellowships to outstanding individuals seeking to complete graduate studies overseas. Click here to read more.
Funding from Private Foundations in Your Country Examples
Colombia
Colombian Institute for Educational Loans and Technical Studies Abroad (ICETEX) provides loans and scholarships to Colombian students for studies both locally and abroad. The scholarship program is designed for professionals in law, international relations, engineering, life sciences, economics or related areas of study. Click here to read more.  

Foundation for the Future of Colombia (COLFUTURO) [SIS Partner]                       
General Loan-Scholarship Program (PGB) provides funds for postgraduate studies. Loans are available to students who have been accepted to master or doctoral programs in any subject at any foreign university. Recipients of COLFUTURO can apply for additional funding from SIS for up to 50% of tuition remission. Click here to read more. Questions? Email jiang@american.edu.

Scandinavian Countries
The American-Scandinavian Foundation (ASF) offers over $500,000 in funding to Scandinavians to undertake study or research programs in any field of study (usually at the graduate level) in the United States for up to one year. Candidates for awards are recommended to the ASF by our cooperating organizations. In order to apply, please see the website for the list of cooperative organizations, and submit your application to the appropriate organization. Applicants must be citizens of Denmark, Norway, Finland, Sweden, or Iceland. For more information, please see the scholarship website.

Spain
La Caixa Foundation provides scholarships for graduate studies overseas. Click here to read more.
Uruguay
The Fondo Solidaridad: Becas Post Grado "Carlos Quijano" awards scholarships for graduate studies abroad. For more information please visit the Fondo Solidaridad website.
Educational Loans from Your Country Examples
Bolivia
Programa de Financiamiento para la Educación, offered by La Fundacion Para la Produccion, provides loans for Bolivian students and professionals to pursue graduate degrees at national universities and abroad. For qualification information please visit the Fundacion Para la Produccion website.
La Fundación CIDEP para la Educación (FUNDACIDEP) offers student loans to Bolivian students. For more information visit the website or email at cidep@cotas.com.bo.
Colombia
See COLFUTURO under Funding from Private Foundations in Your Country.
Mexico
The FIDERH: Human Resources Development Fund provides government loans for postgraduate studies abroad. FIDERH is a public financial institution that is administered by the Banco de Mexico with the objective of financing postgraduate studies for Mexicans abroad. For more information, please visit the EDUCAFIN website.
Norway
The Norwegian State Education Loan Fund ("Lånekassen") - governmental agency providing grants and loans to Norwegian students.  Click here to read more.
Peru
The Instituto Peruano de Fomento Educativo (IPFE) provides loans for university studies or training abroad. For more information, please visit the IPFE website.
Also see OBEC under Funding from Your Government.
Venezuela
The Educredito A.C. program offers loans to students, scholars and professionals for graduate and technical studies. For more information, please consult Educredito.
Funding from International Organizations/NGOs Examples
Aghan Khan Foundation International Scholarship Program
The Aga Khan Foundation provides a limited number of scholarships each year for postgraduate studies to outstanding students from developing countries who have no other means of financing their studies. Scholarships are awarded on a 50% grant- 50% loan basis through a competitive application process once a year in June or July. The Foundation gives priority to requests for Master's level courses but is also willing to consider applications for PhD programs. The Foundation accepts applications from countries where it has branches, affiliates or other AKDN agencies which can help with processing applications and interviewing applicants. At present, these are Bangladesh, India, Pakistan, Afghanistan, Tajikistan, Kyrgystan, Syria, Egypt, Kenya, Tanzania, Uganda, Mozambique, Madagascar, France, Portugal, UK, USA and Canada. Click here to read more.
Global Sustainable Electricity Partnership ESED Scholarship Program
The ESED scholarship program supports scholars from developing countries and economies interested in pursuing advanced studies in sustainable energy development. Click here to read more.

Joint Japan/World Bank Graduate Scholarship (JJ/WBGS) Program
The scholarship program offers funding to eligible individuals from World Bank member countries dedicated to the study of development. Click here to read more.

Organization of American States (OAS)[SIS Partner]
The OAS offers the OAS Academic Scholarships as well as the Rowe Fund to eligible individuals. Recipients of OAS funding can apply for additional funding from SIS.
United States Fulbright Program for Foreign Students [SIS Partner]
A U.S. government program that selects outstanding individuals from around the world for graduate studies in the U.S. Sponsored by the State Department. Students selected for the Fulbright are eligible to receive for additional funding from SIS if admitted. The Fulbright application process usually starts one year before the applicant's intended term of study and has to be initiated from the applicant's country of origin. Click here to read more. Questions? Email jiang@american.edu.

United States-Indonesia Society (USINDO)
A non-profit organization created to promote mutual understanding and cultural and educational exchange between the U.S. and Indonesia, USINDO offers Edward E. Masters Fellowships to top-rank officials from the Indonesian Ministry of Foreign Affairs. Click here to read more.

United States--South Pacific Scholarship Program (USSP)
Funded by the Bureau of Educational and Cultural Affairs of the U.S. Department of State, USSP supports individuals from South Pacific countries to pursue bachelor's or master's degree study at U.S. institutions in fields relevant to development needs in the Pacific islands region. Support includes funding, an internship in Washington, D.C. and a home-country community service project. Eligibility: Citizens of the Cook Islands, Fiji, Kiribati, Nauru, Niue, Papua New Guinea, Samoa, Solomon Islands, Tonga, Tuvalu, and Vanuatu. Administered by the East West Center. Click here to read more.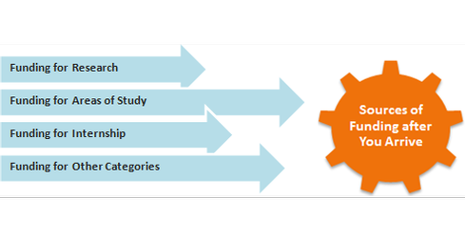 Funding for Research Examples
American Association of University Women (AAUW) International Fellowship Program [SIS]
International Fellowships are awarded for full-time study or research in the United States to women who are not U.S. citizens or permanent residents. Both graduate and postgraduate studies at accredited U.S. institutions are supported. Up to five fellowships are renewable for a second year. Recipients are selected for academic achievement and demonstrated commitment to women and girls. Recipients return to their home countries to become leaders in business, government, academia, community activism, the arts, and sciences. Click here to read more.
SIS Graduate Research Awards
For current SIS graduate students only and are designed to subsidize the costs of travel and/or conference registration, while also promoting SIS Graduate student scholarship and professionalism. Can be used towards research, conference or internship. Up to $500 for domestic travel and up to $1000 for travel abroad. Click here to read more.
The Cosmo Club Foundation Scholars Grant Program, Washington, D.C.
The Cosmos Club Foundation Scholars Grant Program provides grants to graduate students to meet specific research needs not covered by other supporting funds, including but not limited to special supplies, travel, unanticipated expenses that would enhance the work, etc. A minimum of fifteen grants, of between $500 and $3,000 each, will be awarded. Tuition and living expenses are not covered by this award. Eligible students must be enrolled in a graduate program in one of the universities of the Consortium of Universities in the Washington Metropolitan Area. There is no restriction as to academic field, but the project should be focused on objective scholarly research rather than commercial or political activity, social activism, or other non-academic goals. Click here to read more.
Funding for Areas of Study Examples
Abdul Aziz Said Scholarship for Continuing SIS Graduate Students
Awarded to SIS' continuing graduate students in the MA in International Peace and Conflict Resolution and MA in Ethics, Peace, and Global Affairs program. Students must have completed at least 6 credits of study at SIS and demonstrated commitment to global peace, intercultural understanding, and promotion of human rights and human dignity. Click here to read more.
African Development Foundation [SIS]
Provides grants for development research on Africa. Contact the Office of Learning and Dissemination in Washington, D.C. at 202-673-3916.
Charles O. and Margaret Lerche Travel Grant
This travel grant was created in honor of Charles O. Lerche, former professor of International Relations and former SIS Dean, and is awarded to a continuing MA in International Peace and Conflict Resolution graduate student each year. Grants are intended to provide support to outstanding IPCR graduate students pursuing practical learning experiences or research in the field of IPCR and American peace policy. Click here to read more.

East-West Center Affiliate Scholar Program
Graduate students from universities worldwide who are working on a thesis or dissertation are eligible to apply. The program offers these students short-term affiliation with the EWC with priority given to students researching on the Asia Pacific Region. Applications are received year-round and arranged individually.
Click here to read more.

East-West Center Asia Studies Fellowship
EWC accepts applications from scholars and analysts who wish to undertake policy-relevant research and writing in one of the following areas: 1.international relations in Asia; 2.political and economic change in Asia; 3.U.S.-Asia relations; and/or 4.economic integration and architecture in the Asia-Pacific. The fellowship finances a three-month residence at the East-West Center in Washington in Washington, D.C.  Click here to read more.

Davis-Putter Scholarship Fund
The Davis-Putter Scholarship Fund provides grants to students actively working for peace and justice. These need-based scholarships are awarded to those able to do academic work at the university level and who are part of the progressive movement on the campus and in the community. U.S. citizenship not required but applicants must have participated in activities in the United States and be planning to enroll in an accredited program in the US in order to apply. There is a strong preference to award grants to students who are planning on staying in the United States and building the progressive movement here. Click here to read more.
Leon E Clark Fellowship [SIS]
The fellowship is specifically for applied research on cultural and international development in Latin America and Africa. It is given once a year to a graduate student in the SIS MA in International Development Program.
Mahatma Gandhi Memorial Foundation Fund [SIS Partner]
Awarded to a current SIS graduate student in the MA in International Peace and Conflict Resolution program. Funds are in the amount of $1000 granted in the spring to be used towards the following academic year. Click here to read more.
Steven Arnold Innovative Small Grant Fund [SIS]
The fund provides currentgraduate students in the SIS MA in International Development Program with small grants of $500 for an innovative idea that is helpful to communities, to the students professionally or/and to the ID program and the field of development as a whole. Click here to read more.
Tinker Walker Fellowship [SIS]
Awarded to graduate students in the SIS MA in International Development program towards their research. Click here to read more.
Walter Sherwin IDP Award
Awarded to a current SIS MA in International Development student who has an excellent academic record and a record of effective and active service to outside communities and/or relevant student organizations. Click here to read more.

Women's Research & Education Institute (WREI) Congressional Fellowship
WREI awards annual fellowships to a select number of graduate students with a proven commitment to equity for women. WREI Fellows gain practical policymaking experience and graduate credit as they work from January to August as Congressional legislative aides in Washington, D.C. Fellows receive stipends for tuition and living expenses. Only students who are currently in, or have recently completed, a graduate or professional-degree program at an accredited institution in the United States are eligible. WREI strongly recommends that applicants complete at least nine hours of graduate coursework before applying. Click here to read more.
World Wildlife Fund Russell E. Train Education for Nature (EFN) program
The program provides fellowships to promising individuals to pursue graduate degree (master's and PhD) studies in conservation-related fields anywhere in the world and conduct research in their home countries or region. Click here to read more.
Funding for Internship Examples
Harambe Entrepreneur Alliance – Parliament of Ghana Summer Internship
Open to African students at the bachelor's and master's level in universities in Asia, Europe and North America. Country of Origin: Ghana. Stipends provided. Click here to read more.
International Water Management Institute Internship [SIS]
Students from developing countries who are selected for the Capacity Building Program internship will receive funding towards travel, living and research. Click here to read more.
SIS Graduate Research Award
See description under Funding for Research above.
Funding for Other Categories Examples
Paul and Daisy Soros Fellowship for New Americans
The fellowship provides opportunities for continuing generations of able and accomplished New Americans to achieve leadership in their chosen fields. The fellowship is up to $25,000 in maintenance grants and up to $20,000 in tuition support for each year of supported graduate study in any field and in any advanced degree-granting program. Applicants must be no more than 30 years old on the application deadline, and must be naturalized U.S. citizens, hold a green card, or be the child of two naturalized U.S. citizen parents. For more information, please see the fellowship website.
(Courtesy of the OAS, AU Office of Merit Awards and the appropriate fellowship websites)
Many international students work on-campus to receive supplementary income towards their educational expenses at AU. Students on F-1 visa are restricted to working up to 20 hours a week on-campus during the regular semesters, and as many hours as needed on-campus during the summer and winter holidays. F-1 students are not allowed to work off-campus with the exception of curriculum-related internship/training, for which a Curriculum Practical Training (CPT) application may be required. Click here to read about international student employment regulations, tax implications, and social security information.

Click here  to view all AU student job openings. Please note that any "federal workstudy" job listed on the site usually requires U.S. permanent residency (green card) or citizenship status.
International students should also note that income from on-campus employment should only be considered supplementary and is not sufficient to cover major educational expenses such as tuition. We strong recommend that you apply for funding from a variety of sources during your time in the program.
Additional Resources
American University provides a variety of resources to international students during their time here. These resources range from academic support and cultural dialogue.
Visit the links below to read more.
International Student and Scholar Services – Intercultural Programs
ISSS is the home-away-from-home for many of our international students. In addition to being the central reservoir for immigration information, ISSS organizes a number of intercultural programs including: TALK – a weekly intercultural discussion group, Roadtrip USA – field trips exploring U.S. multiculturalism, Global Café – an informal gathering on the ISSS patio, AU Diplomats – a student group that represents AU to the global community, and the International Student Leadership Team.
Academic Support Center – Services for International Students
ASC offers tutoring and writing trainings on a regular basis to international students seeking support in these areas. Trainings can be in the form of group workshops or individual appointment.
Other General Campus Resources Include:
AU Campus Store
AU Campus Connect
AU Shuttle & Parking
Office of Campus Life
Counseling Center
Disability Support Services
Center for Diversity & Inclusion
Office of Information Technology
Student Health Center
Off-campus Resources
The U.S. Department of State supports a network of Educational Advising Centers around the world. These centers are equipped with experienced professional advisors who provide international students with valuable information and services to facilitate their higher education and study opportunities in the United States.
Such information and services include, but are not limited to, life, culture and educational environment in the United States and pre-departure orientation. Chat with an EducationUSA advisor in your home country before you leave for Washington D.C.! Click here to find a regional Educational Advising Center near you.
The Official Washington D.C. Guide
The official DC guide provides comprehensive information on DC neighborhoods, attractions, things to do, accommodation and travel tips.