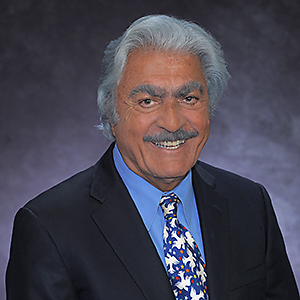 Abdul Said

Prof Emeritus School of International Service
Additional Positions at AU

Mohamed Said Farsi Chair of Islamic Peace
Founding Director, International Peace and Conflict Resolution Division
Director Emeritus and Founder, Center for Global Peace

Degrees

PhD, American University; MA, American University; BA, American University

Languages Spoken

French, English, and Arabic

Favorite Spot on Campus

The Quad

Favorite Place in Washington DC

The views along Independence Ave

Book Currently Reading

An Incomplete Guide to the Future, by Willis Harman

Bio

Dr. Said is the senior ranking professor at American University and the first occupant of the endowed Mohamed Said Farsi Chair of Islamic Peace. He founded the university-wide Center for Global Peace, which undertakes a range of activities, both on and off campus, aimed at advancing our understanding of world peace.
Scholarly, Creative & Professional Activities
Research Interests
Dr. Said's deep commitment to nonviolence, human rights, political pluralism, cultural diversity, and ecological balance has furthered the expansion of Peace and Conflict Resolution as a field of study throughout the world.
Selected Publications
"Islam and Peacemaking," (co-authored with Sheherazade Jafari), in Peacemaking: A Comprehensive Theory and Practice Reference, Praeger Security International, Forthcoming.   
"Toward a Global Community: Sufism and World Order," (co-authored with Nathan Funk) Religious Studies and Theology, September 2010, 29.1.   
"Localizing Peace: An Agenda for Sustainable Peacemaking," (co-authored with Nathan Funk), Peace and Conflict Studies, Spring 2010, 17.1.   
Islam and Peacemaking in the Middle East, co-authored with Nathan Funk, 2009.   
Contemporary Islam: Dynamic, Not Static, co-edited with Meena Sharify-Funk and Mohammed Abu-Nimer, 2006.   
The World of Islam, with Abdul Karim Bangura. Pearson Custom Publishing, 2004.   
Cultural Diversity and Islam, co-edited with Meena Sharify-Funk, University Press of America, 2003.   
Peace and Conflict Resolution in Islam: Precept and Practice, co-edited with Nathan C. Funk and Ayse Kadayifici, University Press of America, 2001.   
"Vision 20/20: Future of the Middle East," editor, Search for Common Ground, 2001.
Honors, Awards, and Fellowships
The University Faculty Award, Outstanding Service to the American University   
Outstanding Faculty Award Mortar Board   
Status of Lecturer at the Foreign Service Institute, Department of State   
Grantee, The Rockefeller Foundation   
Grantee, The United States Institute of Peace   
Grantee, National Endowment for Democracy   
Grantee, United States Agency for International Development   
Phi Epsilon Pi National Jewish Fraternity, Living Legend Award   
Abdul Aziz Said Phi Epsilon Pi Scholarship (named after)   
Multicultural Award, American University Office of Multicultural Affairs       
Executive Experience
Advisor, the United States Department of State on the "Future of Iraq" project, Democratic Principles Group
Advisor, Undersecretary of State for Public Diplomacy
Member, White House Committee on the Islamic World
President, Regional Chapter of the International Studies Association
Member, National Council, International Studies Association
Consultant to the United Nations Development Program
Consultant to UNESCO
Participant in Arab-Israeli peace dialogues
Consultant to USIA, the Department of State, and the Department of Defense
Prepared report "Youth and Bureaucracy," for the White House Youth Conference, February, 1971.