Alumni News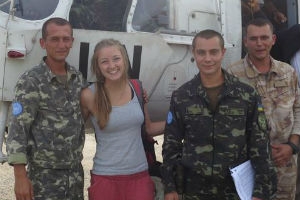 Carla with Ukrainian pilots from a UN flight.
Carla Trippe

After finishing the MA in International Peace and Conflict Resolution (2010), I had all the optimistic confidence needed to face the working world: a breadth of internships ranging from UN agency to think tank in Brussels to peacebuilding organizations in DC. I had a great network of colleagues, professors, and other mentors.  With these resources in hand – not to mention, an excellent degree!- I moved out to the West Coast and secured work, first in the social entrepreneurship private sector, and later fundraising for nonprofits. After two years, the ache to be working out in the field in developing countries had gotten bad. I was not building capacity. I was not tapping my own capacity.
After a regular yet anything-but-normal aerobics session with Richard Simmons, he sat the class down and demanded, "It is the beginning of Spring! Have you done what you said you would by this time? A quarter of the year has passed!" This, amusingly, was the moment where everything shifted in me. If it meant I had to be an intern again, by the power vested in Richard Simmons, I would do it!
As someone with field experience limited to week-long social justice trips to Honduras or Bolivia, I was not hire-material for international organizations working in developing countries. I contacted the INGO I had interned with in DC, Search for Common Ground, and asked whether I could still apply for their international internship summer program. Within a matter of weeks, I was at the travel clinic getting shots for Liberia.
It was a huge leap, but knowing nothing would make me happier, the decision was not hard at the time. The key was going with the right organization. I knew from experience that Search for Common Ground would rely on me just as much as any other program staff in the office, and I trusted the quality of their work. I was not going to get my feet wet. I was going to jump in and test the current.
After three months in Liberia, there was no doubt that I was in the right place. I clicked with the people, the environment, and the culture (…but not necessarily the spicy food). Three out of four? I'll take it. Moreover, there was a demand for my skills. By developing a specialization in Monitoring & Evaluation while I was interning for various organizations in DC, I found a niche that fit well with consultancies and applied across sectors. I did a project for Search for Common Ground as a consultant but also tapped into my new Liberian network. ChildFund Liberia hired me to conduct a baseline study on education quality, accessibility, and equity in a remote county. After that, I was hired by an implementing partner of the USAID Health, Agriculture, and Nutrition Development for Sustainability (HANDS) program to be the Data Manager. Getting both jobs was only possible because I was in country, could meet face-to-face with program staff, and was available on short notice. Advice to new graduates: Sometimes being on the ground and having shown people what you can do is the best way to get your foot in the door.
In a world where "best practice" evolves so quickly, I am lucky to turn to AU professors who spend so much of their own time as practitioners. Meeting Prof. Susan Shepler in Liberia in July 2014 was like seeing family. We talked about Ebola, peace education, and our own personal transformations spurred by West Africa. Her insight is invaluable and always renews my aspirations.
I recently celebrated my two-year mark in Liberia and do not plan on leaving anytime soon. By sticking with my current program through the hard times, I was promoted to a position that I helped to develop: Knowledge Systems Manager. My work takes me out to two remote counties bordering with the Ivory Coast. I have built the skills of my colleagues by training them in new mobile technologies for data collection, performing anthropometric measurements, report writing, and USAID Performance Management Plan (PMP) tools. As a team, we tap into each other's talents and share responsibilities. I also know that the example I set in management style and ethical behavior contributes to a standard for the staff.
Let me be very clear though: I learn so much more by working and living here than the skills I teach others. I am humbled every day. Likewise, I am reminded that I am here because of the opportunities I created for myself. It takes a lot of effort, patience, and flexibility.
But that is what makes this work so wonderful.