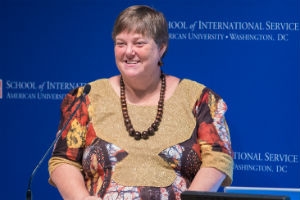 Dr. Shepler discussing her new book, "Childhood Deployed: From Ethnography to Policy"
IPCR Upcoming Events:
"Finding Common Ground Between Governments: The Israel-Lebanon Monitoring Group"
IMCP, AUNP, and IPCR welcome Ambassador David Greenlee, U.S. Delegate of the Israel-Lebanon Monitoring Group (1996-1997), and Ted Feifer, Deputy Head of the U.S. delegation, as we explore the strategies used to exploit opportunities and manage challenges while facilitating an official dialogue process between governments.
Speakers will discuss strategies such as gaining acceptance from the parties, designing a process and creating guidelines, media coverage and confidentiality issues, consensus-building skills, managing group dynamics and respective constituencies, maintaining the momentum and enforcement issues. These strategies will be contrasted with principles guiding unofficial mediators in their work.
Friday, February 13th at 9:30 am-10:30 am in Rm MGC 245. Please click here for more info.

2014 IPCR Events Highlights:
After Gaza: Security, Human Rights, and Peacebuilding
November 2014

On November 13, 2014, IPCR, Middle East Studies, and the Barzani Graduate Peace Fellows collaborated to hold a dynamic panel discussion entitled "After Gaza: Security, Human Rights, and Peacebuilding," moderated by American University professor, Dr. Mohamed Alaa Abdel-Moneim.

The three panelists transform perceptions and on-the-ground realities of the Israeli-Palestinian conflict. To do this, they offer faith-based workshops and provide sponsorship opportunities of children affected by the conflict. 
Danny Sherman, an organizational consultant and policy analyst and a former senior general staff officer in the Israel Defense Forces, urged that after the summer war of 2014, the conflict is riper than ever to push forward with new attempts at peacemaking. 
Sami Awad, the Executive Director of Holy Land Trust (HLT), a Palestinian nonprofit organization that he founded in 1998 in Bethlehem is an American University alumnus of the IPCR program. His organization, HLT, works with the Palestinian community at both the grassroots and leadership levels in developing nonviolent approaches that aim to end the Israeli occupation and build a future founded on the principles of nonviolence, equality, justice, and peaceful coexistence. 
Lastly, Rev. Dr. Mae Elise Cannon serves as the Senior Director of Advocacy & Outreach for World Vision USA. She is a pastor, writer, and academic who uses her knowledge of faith and community building to bring together members of many communities with the aim of positive conflict transformation. 
Over thirty AU faculty, students, and community members attended the panel discussion. It was seen as an overwhelming success, as it provided a safe space to discuss some of the more contentious issues surrounding the conflict, and it also allowed for the exploration of one approach to peacebuilding in the region.

IPCR Book Event with Prof. Susan Shepler
September 2014

IPCR proudly hosted a presentation and panel discussion on Prof. Susan Shepler's recently published book on the reintegration of child soldiers, Childhood Deployed: Remaking Child Soldiers in Sierra Leone. Panelists included Dr. Joanna de Berry, Dr. Radha Rajkotia, and Dr. Nicole Behnam. Please find the flyer here for more event information.
Childhood Deployed examines the reintegration of former child soldiers in Sierra Leone. Based on eighteen months of participant-observer ethnographic fieldwork and ten years of follow-up research, the book argues that there is a fundamental disconnect between the Western idea of the child soldier and the individual lived experiences of the child soldiers of Sierra Leone. Susan Shepler contends that the reintegration of former child soldiers is a political process having to do with changing notions of childhood as one of the central structures of society.
For most Westerners the tragedy of the idea of "child soldier" centers around perceptions of lost and violated innocence. In contrast, Shepler finds that for most Sierra Leoneans, the problem is not lost innocence but the horror of being separated from one's family and the resulting generational break in youth education. Further, Shepler argues that Sierra Leonean former child soldiers find themselves forced to strategically perform (or refuse to perform) as the"child soldier" Western human rights initiatives expect in order to most effectively gain access to the resources available for their social reintegration. The strategies don't always work—in some cases, Shepler finds, Western human rights initiatives do more harm than good.
While this volume focuses on the well-known case of child soldiers in Sierra Leone, it speaks to the larger concerns of childhood studies with a detailed ethnography of people struggling over the situated meaning of the categories of childhood.It offers an example of the cultural politics of childhood in action, in which the very definition of childhood is at stake and an important site of political contestation. (http://nyupress.org/books/9780814770252/)

The Militarization of Policing in Comparative Perspective
September 2014

Recent events in Ferguson, MO have sparked a national discussion about the militarization of policing and the legitimacy of the use of force against unarmed civilians. From Middle America to the heart of Asia, sophisticated military technology and weapons are being employed far from traditional battlefields by police forces. A panel of distinguished scholars will draw on their research investigating militarized policing in the Americas, Europe, South Asia and Southeast Asia to examine the implications of this trend on communities and their trust in the state. Please click here for the flyer.
War or Peace? US Foreign Policy and the Iranian Nuclear Program with Dr. Matthew Kroenig
October 2014

Matthew Kroenig is Associate Professor and International Relations Field Chair in the Department of Government at Georgetown University and Nonresident Senior Fellow at the Brent Scowcroft Center on International Security at the Atlantic Council. Prof. Kroenig will discuss A Time to Attack, his recent publication, and recent research in a talk moderated by SIS professor, Neil K. Shenai. Please see this flyer for more information.