International
Alumnae Document USDA Discrimination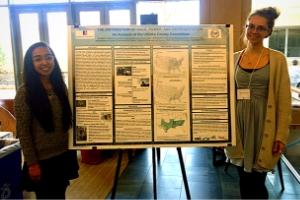 Practicum /ˈpraktəkəm/ noun: the physical, practical application of theories studied; can be as varied and interesting as the courses to which they apply. After months of studying in the classroom, practica are often the final hurdle to clear before receiving class credit, but for two School of International Service (SIS) alumnae, their practicum was just the beginning of their professional journeys.
Two years ago, Amber Orozco and Alexandria Ward were Global Environmental Politics Program graduate students in Professor Garrett Graddy-Lovelace's practicum class. They were working with grassroots agrarian organizations and using their practicum requirements to collect data and document systemic United States Department of Agriculture (USDA) discrimination. Orozco and Ward joined a cohort of like-minded students who were passionate about using their semester to learn from and assist marginalized agricultural communities through hands-on, practical research that drew upon real-world experience from various fields.
"Our class had policy experts, economists, geographers, anthropologists, and business students" says Orozco.
The students' diverse skill sets were a boon to their research. Many of the deliverables they needed to produce required aptitudes for geographic mapping, data visualization, and census and economic data analysis.

"The organizations wanted qualitative data about a number of things, such as Black land tenure loss and perseverance, where U.S. foreign policy money is going, what farm subsidies are approved, how many of those are going to large landholders and even large agribusiness corporations. Our community partners want to document those disparities not only quantitatively, but also with qualitative stories of, for instance, farmers of color who have been able to access federal supports and have done impressive things with just a little pilot program," says Graddy-Lovelace.

Orozco and Ward created a variety of deliverables for the Rural Coalition and the National Family Farm Coalition. Both say that the practicum experience, and Graddy-Lovelace's wisdom and support along the way, supported them in pursuing aspects of the deliverables they enjoyed the most.
"On the most basic level, I learned a lot. I had been interested in filmmaking, but I hadn't done anything like that before," says Ward, who now serves as a Market Manager supporting sustainable agriculture and improving food access and equity with the nonprofit Freshfarm Markets.
Orozco was similarly encouraged to apply her interests to the organization's requests: "I took a methodology class on geographic information systems (GIS) while at American, so I created an open-access, open-source online map. That was a really great opportunity to get hands on experience by learning the ins and outs."

As the adage goes, knowledge isn't the filling of a vessel, but the kindling of a flame and Orozco and Ward blazed through their work. They produced a 20-minute documentary film about the Pigford Civil Rights Cases, in which black farmers sued (and won) the USDA over discriminatory allocations of farm loans and assistance, and mapped region-specific databases of the number of American farmers along with data points related to food and farm security.

Orozco says these deliverables were a way for her to help often-overlooked communities, make connections in her field, and fulfill the requirements of her master's degree. And she's grateful for the experience: "The practicum allowed me to really see things through a different lens, and it was such a privilege to work directly with farmers and the organizations who've been doing the ground work for decades."

For Orozco, who now works as a program associate for the Los Angeles Food Policy Council's Healthy Neighborhood Market network Program, being published alongside her practicum classmate and Graddy-Lovelace represents the culmination of two years of work and is a particularly proud moment: "This was so vital to my growth as an academic, as a researcher. [Mentorship] is what drew me to American University in the first place... being able to work directly with Professor Graddy-Lovelace really helped me grow. Being able to go through the publishing process was rewarding, especially after two years of writing the paper and going through all these revisions!"

But it wasn't enough to produce good work; the approach and care Orozco and Ward took in gathering these stories and data were vital aspects of the practicum. Graddy-Lovelace emphasized that the students had a responsibility to the communities surveyed in their research and that they were tasked with documenting something profound and painful. While fulfilling the course requirements, they couldn't lose sight of who really loses when practicum deliverables fall short.

Graddy-Lovelace explains, "This paper went through peer review for two years and one of the reviewers said, 'Why do you use the word trauma when describing Black land loss?' Well, we have been working with these farmers long enough to know that when your family has held onto land—against all odds—when the Ku Klux Klan has been burning barns all around you and your family has held on... But now you're the generation where you might lose the land because no one will give you adequate crop insurance while all the white farmers around you are fully insured, there is a trauma there. And it's not like we can speak on behalf of that trauma; it's not our trauma. But it is part of a larger responsibility to help convey how high the stakes are."

Between 1910 and 2012, more than half of America's black agrarian communities disappeared. And as the 2018 iteration of the Farm Bill (the country's largest funding vehicle for "farmer safety nets" like commodity programs, credit programs, and crop insurance) was signed into law last month, the stakes for the black farmers who have managed to hold on are as high as ever.

"I am very grateful for her support and for setting an example of what it means to be an ally to communities," says Orozco. "Within the first few weeks of our practicum, we read from The Pedagogy of the Oppressed, which really grounded us in the fact that these communities have knowledge. They are the leaders. These organizations have been doing the work, they have full knowledge and leadership, and it is our role to support them and learn from them. It was really humbling, and being able to work directly with Professor Graddy-Lovelace on the paper embedded those ethics in me even more. It was a great experience and one that I carry with me everywhere."


Orozco, Ward, and Professor Grady-Lovelace's article "Documenting USDA Discrimination: Community-Partnered Research on Farm Policy for Land Justice," published with open-access in the ACME: International Journal for Critical Geographies.

Orozco and Ward's documentary deliverable about the Pigford Civil Rights Cases: