International
SIS welcomes new Mohamed Said Farsi Chair of Islamic Peace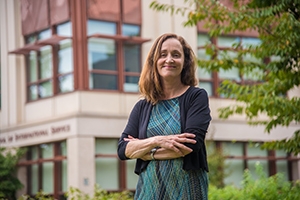 Professor Elizabeth Thompson joins American University School of International Service (SIS) this semester as the new Mohamed Said Farsi Chair of Islamic Peace. An expert in the history of political movements, democratization, gender, and international intervention in the Middle East, we sat down with Professor Thompson to get to know her.


Let's start with a little about your background. From where are you joining SIS and how did you end up here?

Up until a couple of months ago, I was a professor at the University of Virginia in the history department, where I spent 20 years. I never expected to become a historian—I thought I was going to be a journalist. I worked in Egypt in the early '80s at the American University in Cairo and, indeed, the Egyptians I met were nothing like what had appeared to me in the media. I think my interest in being a journalist and a scholar derived from that disjunction.Fast forward: I interned at the Associated Press while earning a master's degree in international affairs at Columbia. But after graduations, newspapers that interviewed me would not post me directly to the Middle East. So when my history professor suggested I apply for Columbia's PhD program, I did. I promised myself that I would keep a hand in public affairs. I have always sought to bridge scholarship and public life in one way or another. When an opening came up at SIS, I was impressed by the dean and faculty I met. I found the school an energetic and an open-minded place—actively rethinking ways we can combine scholarship and with public policy. I thought it was a place that I could pick up those lost strands of my life and explore new ways of keeping my promise.
What are your areas of research interests?

My country of greatest specialty is Syria, which, unfortunately, is at ground zero in the decades-long conflicts in the Middle East born of resistance and protest against Cold-War era dictatorships. We view them as wars on terror, but Middle Eastern peoples have experienced the rise of Islamism as a reaction to state oppression. What began as struggle for liberation has transformed into a new form of violence. To rebuild Middle Eastern societies, we will need to understand the indigenous practices and ways in which those peoples have solved their conflicts peacefully. This idea lies behind my interest in World War I as a catastrophic foundation to modern Middle Eastern history, similar to the role that the Civil War has played in American history. I think we can understand Middle Eastern politics if we understand World War I. As in Europe, the war shattered popular support for liberalism and ushered in reactionary politics. We live today with the fateful split, dating from then, between Islamism and liberalism. In the Arab Spring, the critical weakness of the several of the revolutions was the mutual suspicion between liberals and Islamists. I'm interested in understanding the roots of that division, so that we can then think about how to knit that back together again.
You are the new Mohamed Said Farsi Chair of Islamic Peace here at SIS. Can you elaborate on what this position is and what you hope to bring to it?

I inherited this chair from Professor Abdul Aziz Said, who held it for several decades. He used the Farsi chair to promote the ideas of peace on an international level. I come to the study of Islamic peace from a different perspective: through the historical study of indigenous social and political movements. By studying those movements, I learn how people in the Middle East have solved their conflicts politically and peacefully. This local knowledge is a repertoire that they can draw upon today to build a new peace. Put another way, I'm not studying peace by looking at Arab-Israeli peace negotiations in a European capital. Rather, I'm looking at it in terms of forces that could ensure social peace within the societies of the Middle East. These forces can form the building blocks to support international peace.
Are you currently working on any research or scholarship projects?

I'm writing a book now about what happened in Damascus after World War I. It's a sequel to Lawrence of Arabia. After Lawrence left Damascus, what did the Arabs do? The movie ends with Arabs bickering, in chaos. Actually, they set up a functioning constitutional monarchy that was more democratic than any Arab government today.
I'm also co-producing a documentary film on World War I in the Middle East, based on the artwork and memoirs of a Hungarian-Frenchman who grew up in the Ottoman Empire and fought alongside the Turks. He physically resisted the peace settlement that imposed a sectarian line dividing Europe (as Christian) from the Middle East (as Muslim). My next book will study the uses of cinema as a form of diplomacy. My interest was sparked when I learned that the British and the French used the movie Gone with the Wind as war propaganda in the Middle East in 1941 and 1942. How odd! How did people in Cairo and Beirut respond to Scarlett O'Hara? It turns out that they had become sophisticated spectators who engaged with American culture and who produced their own movies—female stars were very popular—as a form of political dialogue.
What are you looking forward to as you start at SIS?

I want to show students how fun it is to be a historical detective, and to see the value of a historical perspective in international relations. A historical perspective—appreciating how peoples of the Middle East have responded to foreign interventions in the past—can help us formulate more productive foreign policy there. Scholarship and public policy have not combined in a productive way in Middle Eastern policy in the last 10, 15 years, have they? So I think we've got to think of some new approaches.